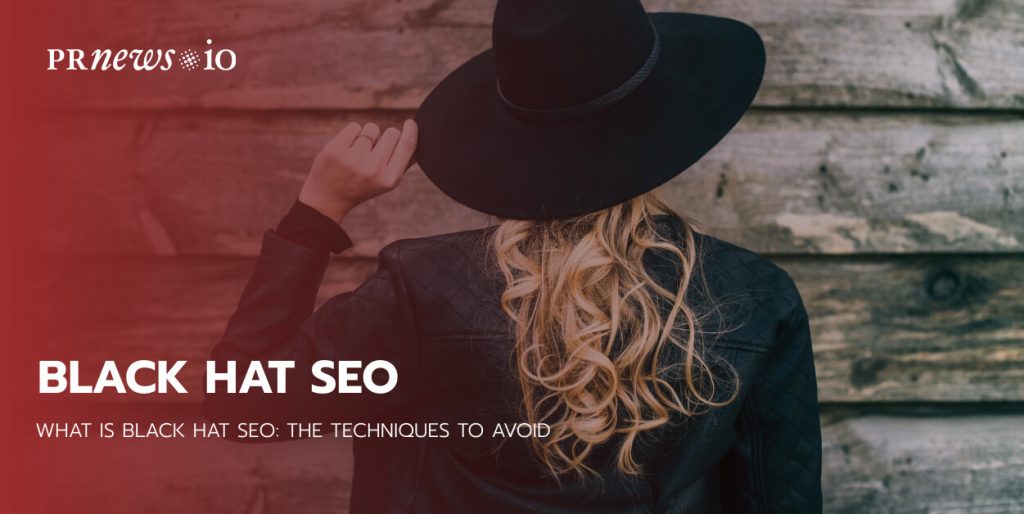 SEO professionals know they can use many different techniques and strategies to achieve the same goal: position higher in Google and other search engines. But not all SEO methods are equal: some of them are prohibited by search engines and can get you into trouble if you use them. This is called black hat SEO.
What is Black Hat SEO?
The term "black hat SEO" means a set of SEO techniques that seek to achieve quick search results by violating Google's rules. They are generally based on tricking search engines in some way to climb positions easily and are considered unethical.
This term was taken from Western movies to distinguish the "bad guys" from the "good guys", who wore white hats.
Within the wide range of SEO, there are three different types:
White Hat SEO: SEO methods that follow search engine guidelines
Black Hat SEO: SEO methods that search engines consider prohibited
Gray Hat SEO: a mix of both methods
Why Should You Avoid Black Hat SEO?
Black Hat SEO tactics can get your website banned from Google and other search engines. This is why it's so essential to avoid Black Hat SEO and use allowed, white-hat SEO tactics instead.
Although black hat SEO can sometimes give you some immediate and good results, it is never worth it over the long term. The search engine detects any attempt to cheat their rules and the penalties are very harsh. Therefore, the fans of the Black Hat SEO techniques usually end up generating the opposite effect of the desired one.
In addition, black hat SEO involves another problem, which is that it does not provide any value to the site visitors. Therefore, although it may be effective in the short term, it ends up being detrimental to a company's marketing objectives. It is always better to move forward step by step and build a strong base on which to implement your SEO strategy.
Also, Google penalties are getting more and more complex and can have devastating effects on your rankings and traffic. With hundreds of millions of prospects searching on Google per day, do you really want to be de-indexed?

Consequences of Applying Black Hat SEO
Obviously, it can have a negative impact on all your business:
A negative impact on your search rankings and visibility:
When a website loses traffic and visibility, it usually means that conversions and revenue do the same. This can mean a huge decrease in a company's revenue.
Will not generate long-term results:
Even in cases where SERP rankings and organic performance initially increase from manipulation techniques, they are rarely steady. Although it may take a while for Google to identify that a site is engaging in unethical practices, once it happens, loss of traffic is inevitable and the recovery is very slow.
It usually offers a very bad user experience:
SEO must take into account a user's experience on a site and work to offer the best content and user experience. However, Black Hat SEO techniques do the exact opposite–they optimize for search engines instead of users. This, in itself, can be problematic.
What Are Google's Sanctions?
If you do not follow Google's guidelines, your website could receive penalties, which differ depending on the severity of the violation, determined by the volume of irregularities and their influence on the performance of the site.
The possible sanctions are:
Fall of 30 positions in the ranking;
Fall of 50 positions;
Fall of 950 positions;
Expulsion from Google.
So if you see your organic traffic drops from one moment to the next, there are great chances that you have received a penalty.
The Most Popular Black Hat SEO Techniques
Now that you know what Black Hat SEO is and its consequences, let's see what type of techniques are considered unethical and prohibited when it comes to positioning in search engines:
Keyword stuffing
It includes entering a keyword over and over again on the website so that the search engine boosts it to a better position. According to Google standards, the keyword must always respond to user needs and provide value. Repeating it over and over affects the quality of the content and the user experience.
Cloaking
One of the most important rules of ethical SEO is that websites must be the same for all users. With this technique, a website presents one version of a URL, page, or just a piece of content to the search engines for higher ranking while showing another to its actual users.
Spinning
Article spinning, also known as content spinning, means usual plagiarism. In the digital world, article spinning is when someone copies content from another source but changes and adapts certain words with synonyms to make it seem original.
Logically, this practice does not provide any value to the reader, and Google's algorithms are increasingly detecting it faster and more frequently.
Hidden text
This black hat SEO practice is very old and breaks Google's rules of showing the same content to users and crawlers. It involves hiding texts that repeat the keyword over and over again, for example, by putting the text in the same color as the background or reducing the size.
Buying and selling links
One of the most important factors in the positioning of a website is inbound links, but these must be received organically. Therefore, buying and selling inbound links is considered a black hat SEO technique and is subject to punishment.
Spam Comments on Blogs
It consists of leaving a comment on a post, which generally has nothing to do with the topic it discusses. The purpose is to include links to the website that you want to position. To avoid this, there are tools to get rid of this type of spam, such as Akismet or Project Honeypot.
Page Hijacking
Page Hijacking involves creating a website that duplicates the content of another website that already exists and ensuring that the duplicate page gets a better reputation than the original.
Private Blog Networks
PBN is a network made up of several blogs and websites that generate links for the site that needs to rise in Google rankings.
The sites that participated in the network generally have a good online authority, since they are old domains that expired, returned to the market, and were acquired for this purpose. There are various sites and even companies focused solely on this!
Negative SEO
Within the dark side of SEO, some webmasters choose not to apply Black Hat SEO techniques to the website itself, but to harm the competition with negative SEO techniques. It is called negative SEO).
This usually means detecting large numbers of unnatural links to other domains suspecting that your website is penalized because of it.
Social Media Manipulation
Social media has become a crucial part of digital marketing, and some companies have been known to manipulate interactions on social networks to boost their online presence.
This can be a technique of black hat SEO, as it often involves buying followers or using automated bots to increase engagement.
How To Report Black Hat SEO
There are two reasons why you may report Black Hat SEO. Either your website has been attacked through a malicious hack, virus, or negative SEO campaign of spammy links, or you see spammy web results on a competitive keyword your website is ranking on.
Step1: Check out your or your competitor's website for backlinks
Initially, you have to find spammy backlinks and audit your website for such backlinks. To identify it, you may use a service like SemRush. The next step is to find out what are suspicious links or spammy links from the list, audit the whole backlink profile, and start adding to your list.
Step 2: Submit form
When your list is ready, it's time to send a report about black hat SEO links to Google.
The first thing you need to do is go to Google's pam, phishing, or malware report page, choose the type of the issue, and select the "Paid link Spam" option.
When reporting black hat SEO practices, point out the most specifically about the type of breach, its location, and its impact. This can help search engines or authorities investigate the issue faster and more efficiently.
After submitting you'll see an acknowledgment screen confirming that spam has been reported successfully. Your report won't result in direct action immediately, you're helping algorithmic spam detection.
Step 3: Follow up
After reporting black hat SEO activities, follow up with search engines or authorities to check the status of your report and provide any additional information if they require it.
Conclusion
Now that you know the main Black Hat SEO techniques and all the problems that can appear while applying them. We assume you will not use them, right?
Using white hat techniques (which follow Google guidelines) undoubtedly needs more work and involves using more time to obtain results. However, this guarantees that we will not receive penalties in the future and that all our work will not be wasted.
Content Marketing Platform
100,000+ media publications;
get backlinks to your product;
scale work with content distribution.
Read more: