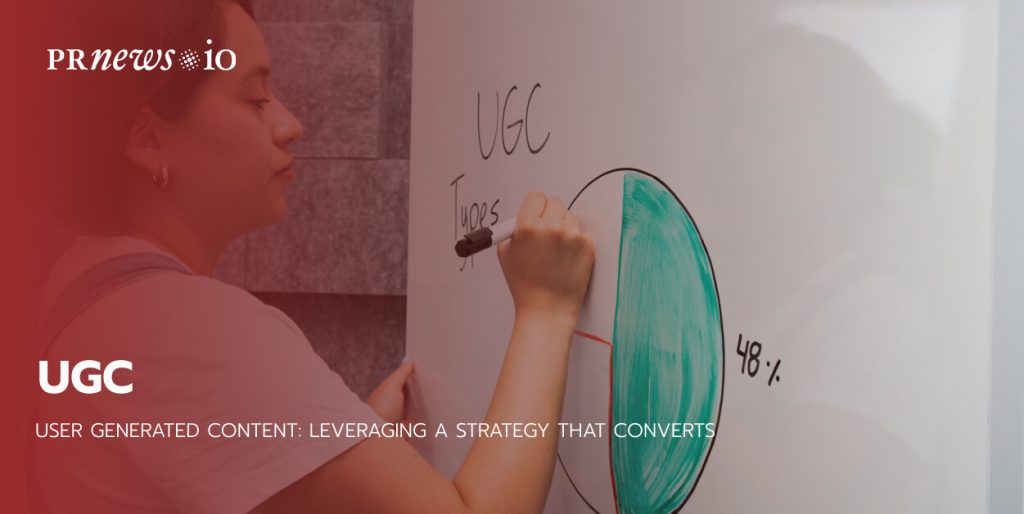 Have you ever bought a product after reading a review on Amazon review? Has a video guide changed your opinion about some devices? These are examples of user-generated content (UGC). In this post, we'll learn what UGC is, why businesses have to leverage it, and how to connect it with the target audience. So if you're looking to get started with UGC, or want to take your marketing strategy to a new level, we'll cover all the ways to apply it.
What is User Generated content?
User-generated content (UGC) is published information that people share about the brands that go unrewarded. These materials may be in different formats – a photo, video, blog or discussion forum post, audio podcast, or comment made through social media platforms.
People don't listen to the brands, but they listen to other people. Opinions and reviews influence customers' decisions. Someone who has never bought from your company will probably be pushed to buy your product or order the service on your site after reading reviews from social media channels or other sources. Therefore, user-generated content becomes vital in this process of customer choice and a great tactic for your content marketing strategy.
Why is User Generated Content Important?
With the rise in social networking platforms, user-generated and organic posts have become more popular and in demand than ever. Customers and brand fans mainly generate this brand-specific content, which is vital in influencing the buyer's final decision.
The following items point out how UGC can be advantageous if leveraged by a company's marketing team:
Authenticity
In a competitive online space, businesses can benefit from authentic reviews, comments, and emotions that their customers share. UGC can also boost social media reach and growth, as most buyers are willing to read recommendations for products and services if real people tell about their experience.
Brand loyalty
UGC boosts brand loyalty because clients create more credible content rather than official representatives of the brand. Companies can gain a high level of customer trust by putting their audience first and motivating them to participate in the company's reputation building.
Cost-effectiveness
UGC is a cost-effective marketing method for businesses for their brand promotion without spending a solid amount for ads. Customers who share their opinions about a product or service, build a connection with like-minded individuals, creating most UGC content organically for free. The brands just have to encourage them with some discounts or other freebies. But commonly it happens without payment.
SEO boost
Positive customer reviews and tutorials can boost a brand's search engine optimization (SEO). In most cases, consumers publish UGC on blogs with backlinks to product websites. Analyzing consumers' search keywords and phrases enables companies to improve their keyword optimization research.
Reach and engagement boost
UGC can lead to increased engagement with a brand's social media channels. Consumers will mention your social media accounts and in case of a helpful tutorial or interesting review, people will visit your page. And here is your chance to make a good impression on the prospects.
Types of User Generated Content
Here are the main types of user-generated content:
Images. These are published photos of your products on social media, blogs, and other online platforms.
Videos and live streams. YouTube videos, Instagram Stories, video reviews, live video streams on social media platforms. These videos can also include product unboxing and product tests.
Social media content. Any social media posts regarding a brand, such as a comment, a tweet, an Instagram post, or a Facebook update.
Product reviews and testimonials. Customer reviews on the company's website or a third-party site, which can include Google, TripAdvisor, or Amazon.
Blog posts. A product guide or a review that bloggers post on their blogs without getting paid for it.
Q&A forum. A public forum like Quora or Reddit where clients and brands can participate in discussions and answer questions regarding a product.
Case studies. Detailed, unpaid customer reviews that explain the advantages and disadvantages of products and services.
Surveys. Customer-provided opinions or descriptions of a specific feature or product.
Where to Get User-Generated Content
Here are some popular sources for acquiring user-generated content:
Social Media Channels:
Social media platforms like Instagram, Twitter, TikTok, and Facebook are bottomless sources of user-generated content. You can motivate users to share their opinions, stories, and photos related to your brand or product by using hashtags, running contests, or mentioning your social media page.
User-Generated Content Platforms:
Specialized platforms like UGC platforms like Grin, LTC, and more, ease the collection and management of user-generated content. These services give services like content curation, rights management, and content display options.
Online Reviews and Testimonials:
Websites like Yelp, TripAdvisor, and Google Reviews provide valuable user-generated content in the form of reviews and testimonials. Use the online services that notify you about any mentions of your brand to collect authentic feedback from customers about your products or services.
Community Forums and Discussion Boards:
Online communities and forums popular in your niche often involve user-generated content through discussions, recommendations, and advice. Join these communities to gather insights and encourage users to share their experiences.
Product and Service Feedback Channels:
Create a dedicated section for feedback on your website or app where users can submit their feedback, suggestions, or testimonials. This allows you to gather valuable user-generated content directly from your customers.
How to Use UGC in Your Marketing Strategy
To align this type of content with your company's marketing objectives, you must redirect them so that they are part of your marketing strategy. It is not about them acting on their own, but rather serving to complement and give greater credibility to the rest of our actions and content strategies.
The use of user-generated content in the marketing strategies of brands is very effective. The good news is that opportunities for generating UGC are growing as new platforms are appearing, so there are still many ways to go and techniques to explore.
In any case, some actions that have already been successfully tested along these lines would be: reuse this content on social networks.
Due to its more informal and spontaneous principles, user-generated content is perfect for publishing on social media accounts managed by a company. In this way, they will achieve a lot of visibility and will help create a community of loyal users who will read their feedback.
Give the maximum possible visibility to product reviews photos and videos. Formats based on images, especially demonstration or product video reviews, are widely popular among users, as they allow them to get an objective view of the item they want to buy.
Hashtag contests
Hashtag contests can motivate followers and customers to use a brand's hashtag. Followers can use a special hashtag to share content about the company or product, such as photos and videos, on a social media platform to win prizes. These contests are a great option for businesses that want to popularize their brand, as it helps with brand awareness and can help boost sales.
To incorporate this popular UGC strategy, companies should create content with hashtags that are unique and easy to remember.
Gamification
This incentive-based strategy makes UGC entertaining and rewarding for its followers and customers. Users are recognized and rewarded in return for completing some tasks. Brands use concepts such as high scores, badges, leaderboards, levels, and points to encourage people to complete tasks and share their experiences with the brand.
To receive the benefits of gamification, companies can guarantee customers points for writing social media posts. Winners can then use those points for discounts and gifts. Other options, such as receiving unlockable freebies with repeat purchases, can also be part of the incentives.
Video content
Videos can uniquely connect to customers. Their potential for shareability and the possibility of becoming viral can significantly boost a business's reach and engagement. Also, when people see real customers sharing their shopping experiences, traveling, or using certain products. It automatically inspires trust in those products and services.
Using content from customers, brands can create UGC videos that showcase original perspectives and genuine insights into their brands. UGC videos tend to receive higher consumer trust compared to branded videos, as they can engage the audience at a personal level.
Seasonal content
During holidays and other special days, businesses can connect to their followers on an emotional level. Brands should learn their target audience and their holiday season interest to integrate seasonal UGC into their marketing strategy successfully. Companies can also ask followers to share images, post videos, use hashtags, write feedback, and participate in contests.
Wrapping Up
A business is essentially faceless. It shows no emotions, has no lived experiences, and lacks sentimental expressions. But brands can change this situation and tap every member of their potential customers' network to get the word-of-mouth wheels spinning.
By leveraging user-generated content as an integral part of your marketing efforts, you're giving your prospects an authentic look at what your customers think of you rather than simply providing them with your product's features.
Is your business in need of a PR makeover?
Benefit from media coverage assistance.
Witness a refined branding approach.
Watch as your recognition soars.