Top Sports Journalists. Sports can bring people together and give a break from the routine of our day-to-day life. Sports drives the best arguments and is of great interest. But watching or playing sports and being a journalist, who is writing about it, are two different things. While playing is a special art in itself, being able to analyze a game, evaluate an athlete, highlight the most significant events requires a good eye and a great deal of effort. The sports reporters who tell those stories, who gets people excited and highlight the important things, deserve to be celebrated in the special list of top Sports Journalists.
If you need some publications, you might be better off using an organized media database with top sports journalists or reliable media partners, like PRnews.io, who will take over all content work.
Let's shed some light on their immaculate careers as the best sportswriters.
Build Positive Online Reputation & Remove Negative from SERP
Top Sports Journalists:
Carolina Guillen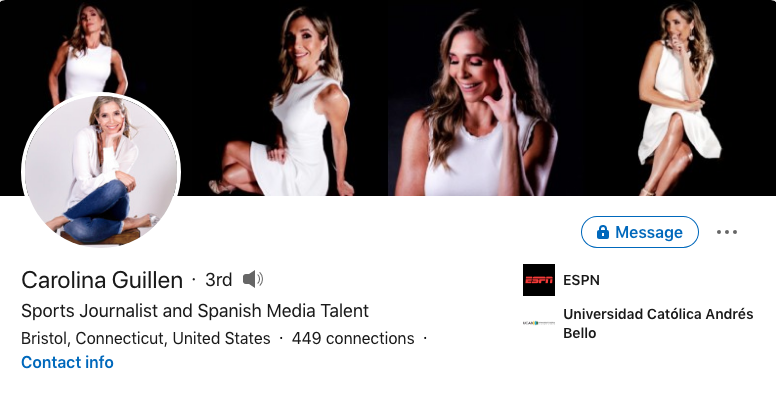 Twitter | LinkedIn | Facebook | Instagram
Carolina Guillen is considered one of the most versatile reporters in sports. Carolina was the first Venezuelan female on ESPN. She joined this channel in 2004 as a SportsCenter anchor for ESPN in Latin America. She started at the 2004 All-Star Game in Houston. In addition to hosting the weekly baseball program, Guillén has highlighted numerous MLB All-Star games, the Home Run Derby, the 2006 and 2009 World Baseball Classic, the Caribbean Series, and the network's coverage of winter baseball season.
Carolina's voice was used to sound the character of Colette into Spanish for the Walt Disney film, "Ratatouille," in 2007. She has got lots of awards for her work in sports journalism, including two Premio Mara de Oro and six Telly Awards. Focusing on soccer and tennis, she has become one of the most influential sports personalities on social media.
Melanie Collins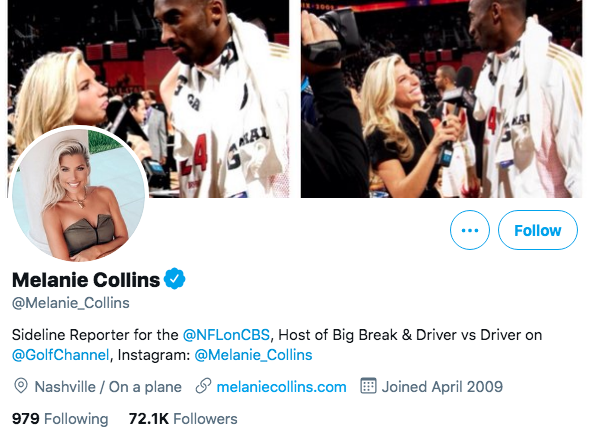 Armed with one of the most magnetic personalities in sports, Melanie Collins is currently an NFL sideline journalist for CBS Sports and the host of Big Break and Driver vs. Driver on Golf Channel. She works also as a fill-in host for SportsNation on ESPN. Mainly, Melanie has worked on college football, college basketball, the NBA, and golf, as well as Major League Baseball for MLB.com. Apart from that, Collins got a chance to work on golf championships like PGA, LPGA, etc. Eventually, the network offered her cover NFL, which she considers a dream come true moment.
During her work at the Olympics, the World Series, and the Super Bowl, Collins has found time to work in the entertainment industry, reporting from the red carpet at events for E! News Now. Melanie Collins is a role model for many aspiring journalists. However, she is not resting in her laurels and takes part in the ESPN show, SportsNation.
Erin Andrews
Twitter | Facebook | Instagram
Erin Andrews has worked in the sports industry for nearly two decades. A versatile broadcaster, Andrews pitches in feature stories and sideline reports from FOX NFL's top game each week during the season, called in the booth by Buck and Aikman.
One of sports television's brightest stars, Andrews came back to the FOX Sports family in July 2012, following eight years at ESPN. With FOX Sports, Andrews has stood out when covering the network's biggest events, including Super Bowl XLVIII, Super Bowl LI, the NFC Championship and Divisional round games, MLB's All-Star Game, and World Series, and more.
An extraordinary on-air personality, Erin connects sports and entertainment and co-hosts ABC's "Dancing With The Stars." Also, Erin Andrews took part in the 10th season of the hit program, where the dancing pair made it to the finals and became third in the competition.
Colin Cowherd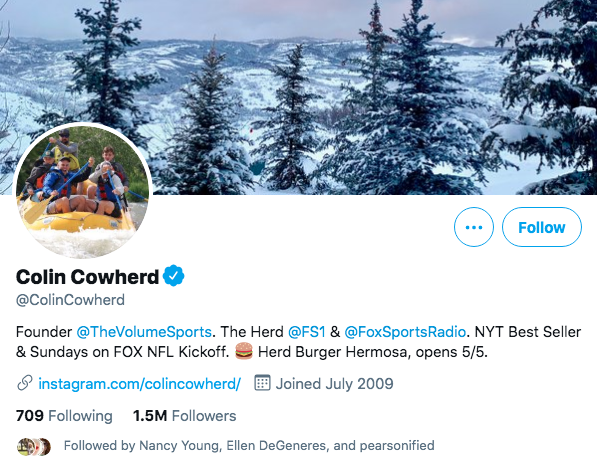 Starting as a school teacher, Colin Cowherd has managed to build an award-winning career that has lasted over two decades. The sports media personality, who has worked with various highly-rated sports media outfits over the years, is undoubtedly considered as one of the most famous people in this field. He is famous as the host of the syndicated show, The Herd with Colin Cowherd which also simulcasts on Fox Sports 1 and Fox Sports Radio. He also manages a YouTube channel of the same name. In addition to his achievements on radio and TV, Colin is also a well-known author with several published works to his credit.
After working with the Stars for some time, KVBC, an NBC-affiliated channel in Las Vegas, Nevada, employed him as a sports director, presenting his arrival into the big-time sports broadcasting world.
Guy Heveldt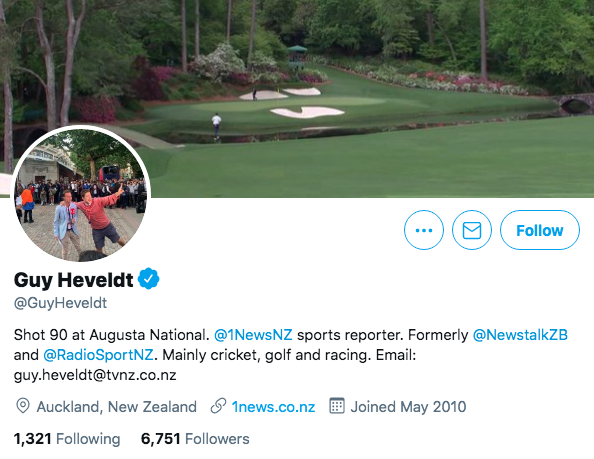 Not until the last term of his final year at Christ's College, did Guy Heveldt choose his future career.
He started to think about what he likes to do– and that was talking and cricket. Hence, he chose the broadcasting degree at Christchurch Polytechnic. And finally, he has found his perfect niche. He's still happy to cover all sports stories, cricket is his passion.
With a Bachelor of Broadcasting Communications, Guy's now a well-known reporter in sporting media, covering the Glasgow Commonwealth Games in 2014 and the Cricket World Cup in the United Kingdom in 2019. Also, Guy worked for six months as a researcher for Eyeworks in Auckland and did shifts at Radio Sport.
He dedicated seven "amazing" years at Radio Sport, learning how to speak confidently on air, and how to elaborate, to tell the story better, how to write better. Later, he moved into the production side, hosted radio shows, and eventually joined TVNZ.
Thuc Nhi Nguyen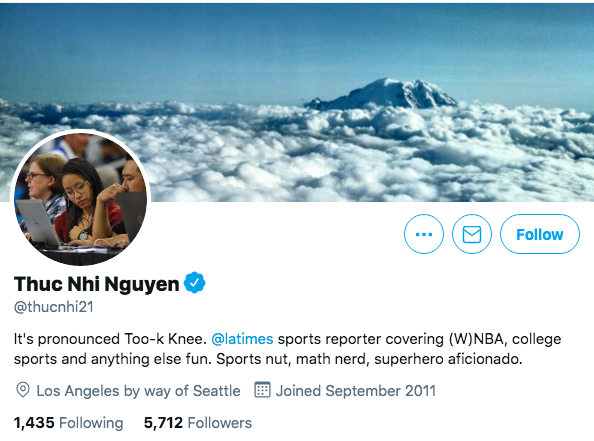 Twitter | LinkedIn | Instagram
Thuc Nhi Nguyen is reporting about college sports and the NBA for the Los Angeles Times.
Previously, she covered UCLA, professional soccer, and prep for the Southern California News Group. Thuc Nhi Nguyen worked for four years reporting about the coaching searches, Chinese shoplifting scandals, and national championships.
Because she doesn't apply for her University of Washington mathematics degree for work, currently it serves as a great decoration for her parents' Seattle home.
Sara Orchard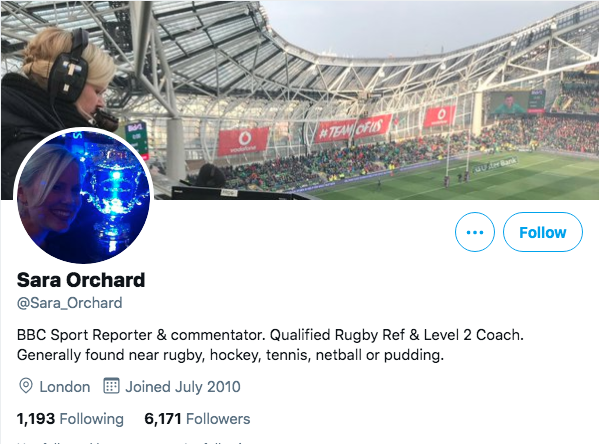 Twitter | LinkedIn | Instagram
Sara Orchard is a professional rugby coach and referee. She was the first lead female rugby commentator in the United Kingdom, reporting about the England vs Fiji game in November 2016.
Believing that women have the same interest in sports as men have, she continues to make crossroads into male-dominated rugby broadcast teams.
Sara is a well-known BBC commentator on many kinds of sports, but especially rugby. She covered sports news on BBC Radio 5 Live, BBC London TV news, Six Nations. Being one of the BBC's youngest women sports correspondents, Sara was performing the Rugby World Cup. Besides, between 2010 and 2014, she was a reporter for Olympic Broadcast Services, including the Winter Olympics in Sochi. Now he works as a regular sports presenter on BBC London.
Ashley Stroehlein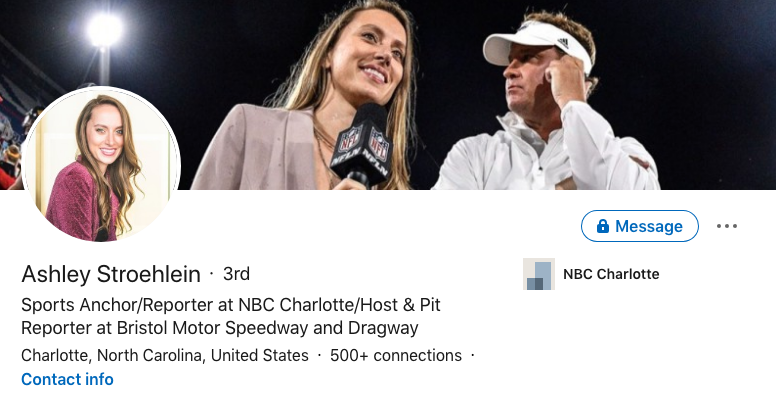 Twitter | LinkedIn | Facebook | Instagram
Ashley Stroehlein is a sports anchor and a journalist in WCNC Charlotte since August 2019.
For five years, Ashley worked as the weekend sports anchor at WBTV. Ashley also works as a sideline journalist at Conference USA games for the NFL Network and the pit reporter for Bristol Motor Speedway's Cup, Xfinity, and Truck series races. Ashley also cooperates with the Charlotte Knights and Charlotte Checkers as an in-game host for both teams.
The world of athletics has played an important role in Ashley's life. As a four-sport star in high school, she gained All-District Honors in basketball, volleyball, softball, track, and cross country. She was honored to be called the Virginia High School Scholar-Athlete of the Year in 2006 and graduated as her school's valedictorian.
Her work as an anchor and storyteller has earned her many professional honors. Most notably, she is a two-time recipient of the prestigious Gracie Award, which awards exemplary programming created by, for, and about women in all aspects of media and entertainment.
Taryn Hatcher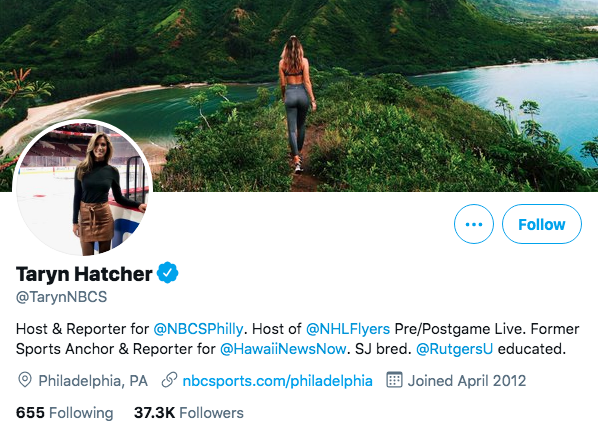 Twitter | LinkedIn | Facebook | Instagram
Taryn Hatcher is a famous sports Broadcaster in the USA.
Taryn became well-known because of her sports broadcasting and journalistic skills. In her student days, she worked as an intern in IHeart Media and Comcast SportsNet and start to run her career. Taryn also has the experience, working as a sports broadcaster for ten months on RVision. Later on, she was hired by the Big Ten Network as a sideline journalist. Afterward, she became more popular when she started working for the Hawaii News Now as a sports reporter and anchor in 2015.
She is now working with NBC Sports Philadelphia in the United States of America. Now Taryn became a famous broadcaster and a sports journalist.
She studied Journalism and Mass Media as well as Political Science and Government at the prestigious Rutgers University in New Brunswick where she.
Jonathan Wilson | Top Sports Journalists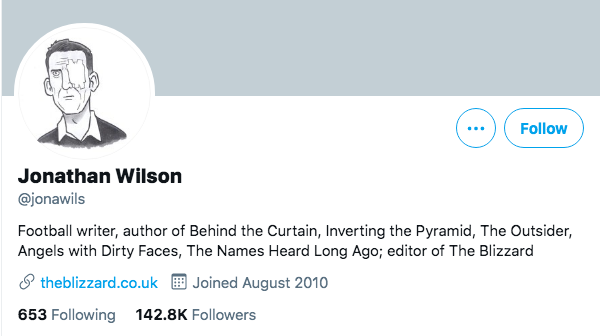 Twitter | Facebook | Wikipedia
This British journalist is one of the most influential sports personas in the world. His award-winning books provided important insights into the world of sports.
Growing up Jewish in London with a difficult life, Wilson discovered his love for football. Through his adolescence and adulthood and well into his later years it continued to be an important part of his life. Football was Wilson's international passport, helping him find friends and community all over the globe, from England to Israel to the US. Whether teaching literature to young Americans or working on a kibbutz, traveling through Russia, or raising children, the sport was always a part of his life.
The formal football journalist has written articles for The Guardian, The Independent, The Daily Telegraph. Now he is the main football columnist for The Observer. Also, he is the founder and current editor of the football journal The Blizzard.
Dana Jacobson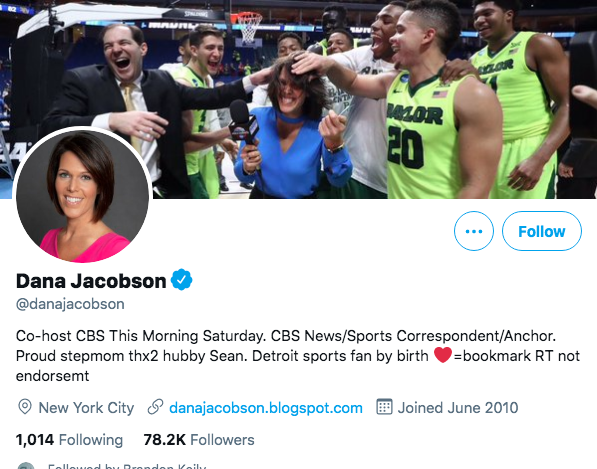 Twitter | LinkedIn | Instagram
Born in Michigan Dana Jacobson is a CBS correspondent. She is also a reporter on the CBS sports channel, as well as work as a co-host on CBS This Morning Saturday. This award-winning journalist has served as an ESPN anchor and has been part of CBS since 2013, highlighting a variety of sports assignments. She has reported about NBA, the winter and summer X Games, and the Olympics. Having built a successful broadcasting career in sports, notably at ESPN and currently at CBS, Dana Jacobson once admitted that she doubts she'll ever leave sports completely.
Jacobson has been awarded by the Michigan Jewish Sports Foundation as a Hall of Fame inductee and has earned National Headliner and Edward R. Murrow Awards for sports reporting. She proved her capacity to report about both news and sports. Being a woman in the sports industry, Jacobson said she had to earn the respect of many men, where there were fewer female reporters and anchors.
Kenny Albert | Top Sports Journalists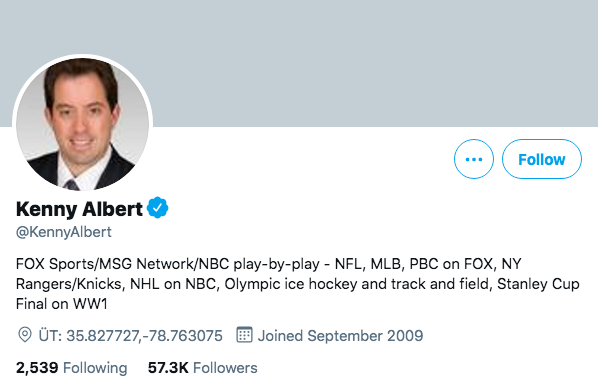 Twitter | LinkedIn | Facebook | Instagram
Kenny Albert was born in a family known for sports. He is the son of a legendary sportscaster, Marv Albert. He has had a long-standing career as a field reporter, announcer, and sports commentator in games and on different TV shows.
Kenny Albert is one of the most versatile broadcasters in sports. He served NHL games for NBC Sports Group and as blow-by-blow announcer for select Premier Boxing Champions (PBC) shows on NBCSN. Albert is the only national play-by-play broadcaster who can call football, baseball, hockey, basketball, and boxing.
Albert has also worked as the radio play-by-play voice of the New York Rangers since 1995. He has served as the play-by-play commentator for the NFL on FOX since the network's inaugural season in 1994 and has been in the booth for five NFC Divisional Playoff games and three BCS bowl games. As a sports personality, Albert has been featured for the Sports Emmy Award.
Mary Garber (1916 – 2008) the First Woman Sports Writer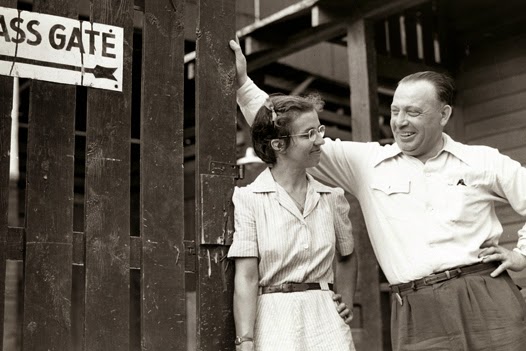 She was an American Sportswriter who earned a well-known name among female sportswriters. She was born in New York and graduated from Hollins College in Virginia. Mary had only one aim in her mind while completing her studies – to become a newspaper reporter.
Her career lasted 70 years during which she got numerous writing awards. She received over 40 writing awards and numerous honors in рук sports-writing career. The most prestigious award was the 2005 Associated Press Sports Editors (APSE) Red Smith Award. Garber was the first woman to win the APSE award. She also became the first woman to be inducted into the U.S. Basketball Writers Association Hall of Fame in 2002.
She loved not only writing about sports but also playing football for the Buena Vista Devils.
Zander Hollander (1923 – 2014) | Top Sports Journalists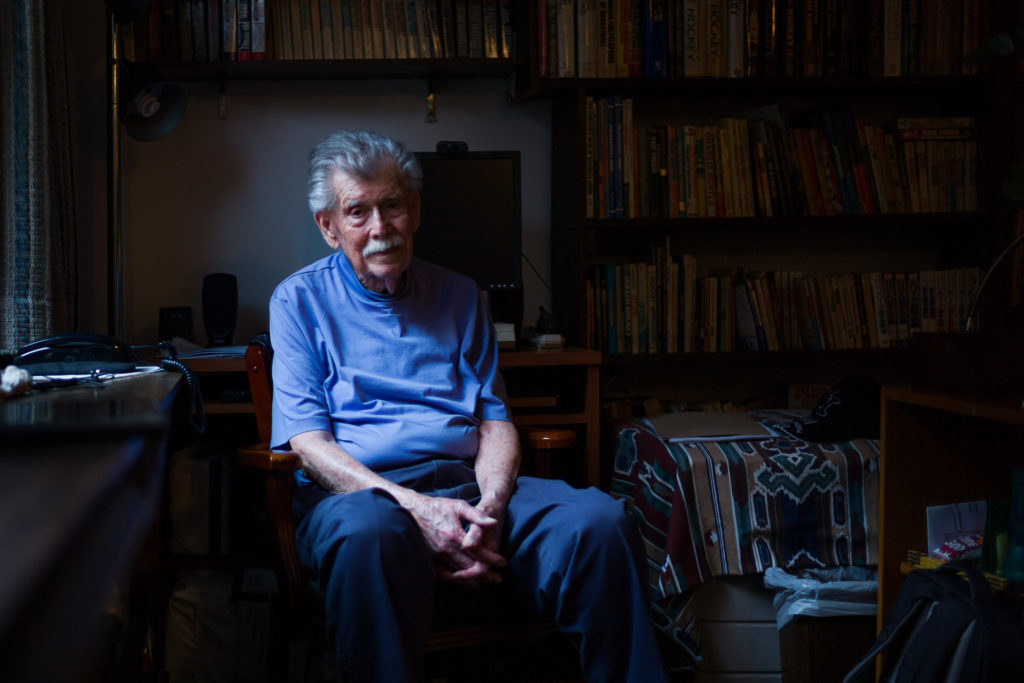 Zander was an American sportswriter. He was also an archivist, an editor, and one of the greatest sports reporters of all time. Zander was born in Brooklyn, New York. He wrote columns in high school as well as a neighborhood newspaper. He attended Queens College but dropped out to serve in the Air Force.
He was popular for being a great provider of encyclopedias related to almost every major kind of sport. Zander Hollander was an author of around 300 books during his entire professional career that roughly lasted for 45 years.
Jimmy Cannon (1909 – 1973) | Top Sports Journalists
Jimmy Cannon was born in New York City. He started his reporting career at the New York Daily Times when he was only 17. Later on, he wrote for some other prominent publishers such as King Features Syndicate, New York Post, and New York Journal American.
During World War II, Cannon worked at Stars and Stripes as a reporter. In the 1950s, he began to write a column for Newsday. A versatile columnist, Jimmy was included in the International Boxing Hall of Fame. His love for boxing transformed him into a passionate boxing journalist.
Content Marketing Platform
100,000+ media publications;
get backlinks to your product;
scale work with content distribution.
Bottom Line: Top Sports Journalists
Finding the right sports reporters to highlight a story is a key part of professional sports. Thoughtful analysis and on-spot reporting can change a story into an amusing highlight for sports fans and bring attention to important situations that happen beyond the playground. That's why well-known journalists have a big influence on the world of sports.
Did I miss somebody from your list of top sports journalists? Why not give it a share?