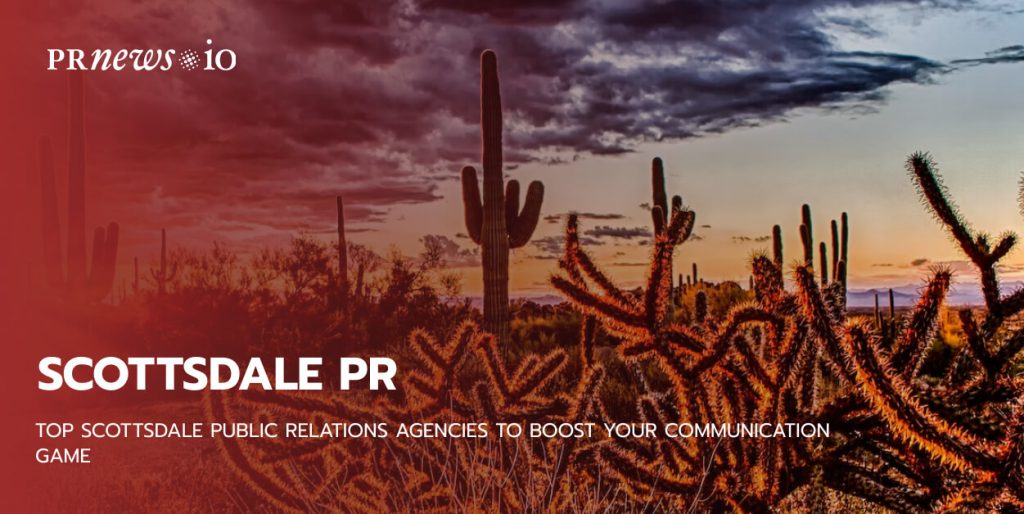 Every business owner wants to elevate his communications. By using the services of professional PR experts, you can reach the level you might never achieve on your own. Top 10 Scottsdale PR agencies list will give you the right indications on how to achieve your set public relations goals effectively and without losing your precious time.
Scottsdale is a city with a developed finance, media, culture, and advertising sectors. It is a home to a big list of PR agencies, which specialize in efficient promotions and professional brand communication.
Content Marketing Platform
100,000+ media publications;
get backlinks to your product;
scale work with content distribution.
Finding Reliable Scottsdale Public Relations Agencies
From real giants to startups, Scottsdale public relations experts are proud to have a solid track record of offering innovative ways of guiding companies through a fast-changing media landscape. We are going to discover the most reliable Scottsdale PR names your company might start dealing with to make your brand recognition grow.
10 to 1 Public Relations agency can help you share your brand story in the way it should be told. The company is proud to offer PR services, which are compelling enough to achieve the most ambitious goals of their numerous clients. The team can help you get noticed in the needed niche. Highly qualified PR experts use original and relevant approaches in storytelling in order to break through the competition and attract people's attention. You can order the following services: media relations, product/market launches, crisis communications, leadership positioning, etc.
The Brand Consortium PR is one of the leading public relations companies in Arizona, which offers high-quality PR, marketing, and social media services. The team of experienced employees knows how to impact brands in the luxury lifestyle niche. The firm caters exclusively to sophisticated clients with ambitious business goals. They use unconventional and dynamic approaches to achieve the best results. If you want to boost your brand recognition and attract VIP clients, order the following services: PR, branding, events, marketing communications, social media promotion, etc.
PR Haus is a well-known public relations and marketing communication agency. It is Arizona's leading agency, owned by the family. This boutique-like PR agency has more than fifty years of PR-related experience. The team does everything possible to perfect their approach of providing PR services to numerous clients. They know everything about public relations and media communications. PR Haus helps companies beat numerous competitors in many different sectors. You will not find a better PR agency, which provides such efficient media communications. Build your brand identities from sketches.
Aker Ink is one of the best Scottsdale public relations and marketing agencies, which has helped many companies boost their brand awareness, generate organic traffic to their sites, and enhance thought leadership. The team consists of experts who think creatively and critically enough to develop PR strategies. Aker Ink will help your brand resonate with the targeted audience. By mixing digital and traditional forms of marketing communication, Aker Ink ensures the right people get the desired information at the perfect time. The agency has guided a lot of companies through difficult media communication challenges and helped them break through numerous obstacles in order to achieve the set goals.
HM&M PR provides a wide list of services, starting from CEO profiling to product/service launches. The agency and its team have a clear understanding of how public relations, social media, and marketing functions to provide professional support to your brand. The team has enough knowledge and experience to devise and implement the most impactful public relations campaigns for clients in Arizona and other US states. Many clients who are looking to build their brands use the services of HM&M PR.
Santy is a famous Arizona's public relations firm, which focuses on guiding its numerous clients in a highly competitive market. It is the right firm to make your brand known all around the US and even on the international scale. By using the advertising services, your company gets a chance to improve your brand presentation and attract a lot of new clients. Santy has a lot of VIP clients, such as Bona, Peter Piper Pizza, Pocky, Delta Air Lines, Salad & Go, and many others.
If you need high-quality marketing services, SinWire Group is the right choice. The company is proud to collaborate with Fortune 500 companies on both local and regional public relations and marketing promotions in the Arizona area.The team has enough skills and experience to lead the most challenging business campaigns. You can order PR services and be sure that they are perfectly tailored based on your specific needs and targets. Do not miss a chance to build your strong performance with SunWire Group.
Anderson Advertising is a full-scale agency, which provides services in PR, marketing, and media communications. The agency is dedicated to its clients and focuses on delivering the most efficient and innovative strategic marketing services. The team has more than 70 years of experience in PR, marketing, and communications. Build your media relations with Anderson Advertising to stand the competition and achieve your ambitious business plans.
The James Agency is one of the best public relations and advertising agencies in Scottsdale, Arizona. The team focuses on delivering comprehensive marketing services for each client. The firm was founded in 2003. It mainly deals with brands, which work in the hospitality and lifestyle sectors. You can order the following services: advertising, PR, media buying, web promotion, digital marketing, etc.
Conclusion
We have revealed the most reliable Public Relations agencies in Scottsdale for your convenience. It is clear that there is no shortage of highly skilled and experienced PR experts in Scottsdale who are committed to help with your media communications needs.
Is your business in need of a PR makeover?
Benefit from media coverage assistance.
Witness a refined branding approach.
Watch as your recognition soars.