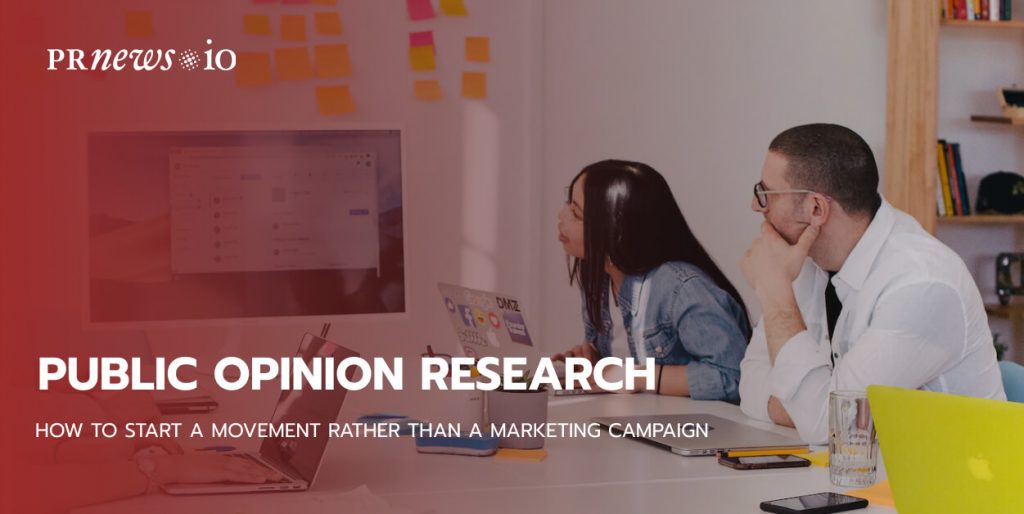 We, human beings are complicated and so are our opinions. The question is whether it is important to know how the masses feel about popular issues. In democratic societies, it is critical to shape public opinion and understand the issues that they care about most. People are the source of power. Hence, their opinion matters.
In PR, public opinion helps an organization in understanding the views of the masses. Simply put the feedback. Knowing what the public thinks, wants, and needs help brands go far beyond good and services. More brands attempt to start a campaign that truly resonates with buyers. Often, it leads to a movement rather than a marketing campaign.
Is It Important to Do Public Opinion Research?
If you are like most Americans, then in 2020 you have responded to the U.S. Census Bureau survey. The only exception are tourists and business travelers. The goal is to count everyone once, only once, and in the right place. These numbers ensure accuracy and are considered a basis for a wide range of research and business decisions.
The basic goal of a good public opinion poll is to give everyone an equal voice about the issues of the day. The main focus is to get feedback from the general population. And when done well, the results describe the thinking and experiences of the much larger group of people from whom the sample is chosen.
What do people know about the issue?
How it affects them?
What do they think should be done about it? and more.
Every survey has a mission or some point that promotes a specific agenda. The results measure 'what', 'how much', 'why', or 'how' but do not identify the future actions of the public. Also, they can't predict the future behavior of individuals. Yer, if the concept is unfamiliar to the respondents, the results have no sense.
There are so many factors that influence our opinion. That makes it difficult to predict how public opinion on an issue will take shape. When people no longer seem to correspond to the current circumstances, they change their attitude. And that is normal. This way their responses fail to serve as guides to action.
And vice versa. A natural disaster is the best example of a change in public attitude. The survey results will show an increase in awareness.
Remember the latest example – the pandemic. Overnight millions of people have faced the new norm, which has posed challenges to nearly every aspect of daily life in the U.S. The first numbers showed the level of confidence in the government.
Effective Marketing: How Public Opinion Affects Business
Once there was a food company that had a brisk and better business. The owner had success. He had the top spot in his niche. So, what could go wrong, you ask? Egoism has made a difference. He became aggressive. Ill treatment with customers had become known far from people who were not subjected to his treatment. As a result, public opinion has made his business down.
Businesses can no longer succeed with siloed strategies. It is time to take a movement marketing approach, where brands look for new ways to connect with customers. And go far beyond just goods and services.
Today's economy has transformed the way the masses reach brands. They can interact, support, review, or boycott them. That makes marketers think and craft marketing initiatives around public opinion rather than around their products.
Who doesn't want to have more customers? Catching lightning in the bottle is the dream of every marketer. The moment the brand becomes more than just a product to buy, it catches fire and becomes part of people's life.
No matter how high business owners fly, they are similar to laymen. They want social approval. So are the decisions they make, they are shaped by social opinion. Sure, the market influences their decisions but the public opinion that drives that subtle pressure. In a time when a small mistake can lead to a big loss, a campaign that resonates with your audience can increase brand awareness and reach new audiences.
How to Do a Better Business with Public Opinion Research
The first step to collecting data is to decide the Who, What, Where, When, and Why for your research. When choosing from several methods, it is smart to focus on the one that will give you answers to your Who and Why questions.
Below are some common mixed methods approaches used to measure the audience's attitude. Each has its pros and cons. Remember that polling is a tool, not a principle. It means you can use the most out of each method to create a marketing strategy that helps build a strong brand.
Surveys
Use surveys if you:
want to make universal claims about a larger group of people;
have a large representative population;
need to get more detailed results.
Surveys help you to:
reach a large number of people;
collect flexible data, regardless of researcher availability;
provide both quantitative and qualitative analysis.
Challenges:
low response rates;
do not cover the needed level of detail for open-ended questions.
Focus Groups
Use focus groups if you:
want to get new or additional insight;
want to see the process of opinion formation to develop practices from the results.
Focus groups help you to:
provide data that reveal the group dynamics;
observe non-verbal cues;
collect very rich data;
keep respondents focused on the research questions.
Challenges:
time-consuming analysis;
some participants might dominate others feel not be comfortable giving information;
losing emotional connection.
Interviews
Use interviews if you:
want to research participants directly.
Interviews help you to:
produce very detailed data;
provide a back-and-forth approach;
collect both verbal and nonverbal cues;
provide equal conditions and the ability to speak.
Challenges:
time-consuming data collection;
difficult to transcript and analyze;
could overwhelm participants.
Appreciative Inquiry
Use appreciative inquiry if you:
want to inspire positive and future-focused responses from respondents;
need to assess what is currently working on the issue and what can work better in the future.
Appreciative inquiry helps you to:
keep respondents active in the creation of solutions;
use it with the interview or focus group methods;
develop and evaluate data;
encourage respondents to focus on the positive;
collect very rich data.
Challenges:
transcription and analysis might be difficult or time-consuming;
not comfortable for some participants.
World Cafe
Use World Cafe if you:
want to create a special casual environment for your respondents;
host a large group of participants at once;
want to encourage open and diverse participation.
World Cafe helps you to:
encourage open discussion and generate a wide variety of perspectives;
create a hospitable atmosphere so that participants generate ideas;
connect diverse perspectives;
share collective discoveries.
Often you will find that mixed methods provide you with the best data to have in your research. Choices for the methods you like depending on the time and resources available. So, please take the time to choose what approaches best suit your particular business goals and use them. Again, it is only the tool that helps you get the best results.
Why Public Opinion Research Is Beneficial for Your Business?
When you doubt that your marketing strategy works for you, just take a poll. This way you will get a few advantages:
improve brand awareness;
low-cost market research;
real-time results;
increased return on investment.
Regardless of the methods you choose to collect data, you need to understand some practices that can impact response rates. Here are a few tips to start your next public opinion research for the best results.
keep your survey shot;
short questions are the best format;
add value to each question you ask;
opt for multiple-choice or open-ended questions;
use marketing public opinion results to add more validity to the data.
If you doubt that you meet consumer demand, just take a poll. If you want to understand if you have touched or filed to engage the masses, just take a poll. And one day you will help them understand that your product has become a 'new normal' rather than a passing fad.
Content Marketing Platform
100,000+ media publications;
get backlinks to your product;
scale work with content distribution.
Read more: