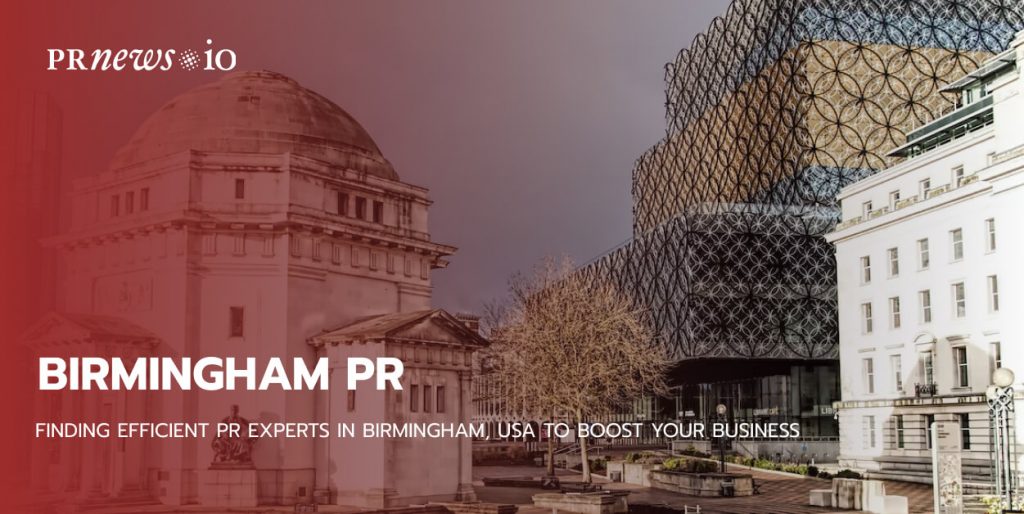 Birmingham is a city where a lot of public relations companies and firms are concentrated. So it is not difficult to find Birmingham PR experts. Thanks to our listing, you get the directions where to look for professional experts, who are involved in various business spheres, and particularly Public Relations.
Hundreds of Birmingham Public Relations agencies are happy to see you as their client. We have included in the rating list only the best companies that provide their new and already existing clients with the most up-to-date and efficient PR services, such as media relations, influencer engagement, event management, and experiential PR and marketing, brand reputation, and crisis management. You can be sure that every mentioned agency has the required resources and professional skills in order to launch your PR campaign effectively within either a local or international market.
Content Marketing Platform
100,000+ media publications;
get backlinks to your product;
scale work with content distribution.
Top Birmingham PR Agencies You Can Trust
In order to provide you assistance, we have composed a list of the most reliable Public Relations agencies, which is based on exclusive and in-depth research. Take a look through the rating list of Public Relations companies in Birmingham, USA and find your PR partner.
Big Communications is an independent PR agency, which is based in Birmingham. It provides a full scale of high-quality public relations services. The team knows how to use client's data, strategy, and eye-catching design in order to transform numerous brands and improve their reputation in the market. The agency has numerous national awards. The list of clients is diverse and includes international, national, and local companies in the following sectors: automotive, finance, government affairs, healthcare, manufacturing, retail, etc.
Direct Communications is a Birmingham-based PR agency, which was founded in 1991. It is one of the best integrated communications firms that focuses on PR, marketing, and crisis communications. The team will help you set the right goals and achieve the best results within a short time frame. Direct Communications provides its numerous clients unique insight, which makes it the most reliable public relations partner. You will see many well-known brands, organizations, and governmental officials who use its PR services on a regular basis.
Communications Strategy Group (or shortly CSG) is a well-known strategic communications, public relations, and marketing agency in Birmingham. Its team provides the following services; public relations, content marketing, digital marketing, website/blog development, SEO, social media promotion, and web design services for numerous companies and well-known American brands. It focuses on the following sectors: finance, healthcare, education, wellness, aerospace, renewable energy, technology, etc.
SHERMAN is a team of experts who know everything about modern public relations. It is a Birmingham-based PR firm that provides top-level expertise, as well as innovative marketing and PR ideas that really work. By dealing with this agency, you can be sure to receive fresh perspectives and the smartest solutions to reach the target audience and make your business grow. You should try its service if you launch a new product or entire business, rebrand your corporate organization, or simply want to distinguish your brand, and find efficient ways to communicate with potential clients.
Style Advertising knows how to deliver the most innovative public relations and marketing solutions. It is one of the oldest PR agencies in the state of Alabama state, which has been providing top-level services since 1970. Though it is a boutique-sized public relations agency, the experienced team is passionate about challenges and fully committed to reach the biggest goals of its numerous clients. You should order strategic planning in order to engage a wider range of target audiences.
Agency54 is a well-known name in the marketing and advertising niche in Birmingham, Alabama. Many clients know it as a full-scale communications and strategic PR agency, which specializes in multicultural audiences and markets. It is a multicultural PR firm, which moves many famous brands, for example, Coca-Cola, Cadillac, etc.
You will not find a better public relations and event marketing agency than Bruno Event Team. It is the leader in its niche. The agency has a beautiful office in Birmingham, USA. The team consists of the best experts who provide high-quality PR services since 1996. The founders of the company are Gene Hallman and Ronald Bruno. You can order all kinds of services concerning public relations and event management. The company know how to handle the most challenging projects and PR campaigns.
Walls Media was founded in 1997 by Lee Walls Jr. The main goal of the company is to create an efficient online publishing solution, which targets mainly daily newspapers. The team of experts knows how to handle the complexities of modern online publishing. You should use its services if you need help with your corporate websites and brand reputation.
Markstein is one of the most reliable full-service PR and marketing communications agencies in Birmingham. The team has a unique approach, which helps beverage brand management, media solutions, digital influence, and creative experiences. Test its services in order to see generated impactful results within a short time frame.
Conclusion
When it concerns business reputation, no one wants to take any kind of risk. By dealing with the best public relations agencies, you can increase your chances to get the highest ROI. It is time to boost your brand awareness by dealing with the best professionals in PR. Good luck with achieving your business objectives!
Is your business in need of a PR makeover?
Benefit from media coverage assistance.
Witness a refined branding approach.
Watch as your recognition soars.