In our technology-driven world, where capturing and sharing content has become an integral part of daily life, having the right tools to record and edit your video content is essential. Whether you're creating instructional guides, sharing presentations, or simply recording your screen for personal or professional purposes, your choice of software can significantly impact the quality and effectiveness of your content.
In this guide, we'll delve into the features and characteristics of some popular screen capture software and explore how they can help you create better content. Each of these options has its own unique strengths and weaknesses, and by understanding their capabilities, you'll be better equipped to choose the one that best suits your specific needs.
1. ShareX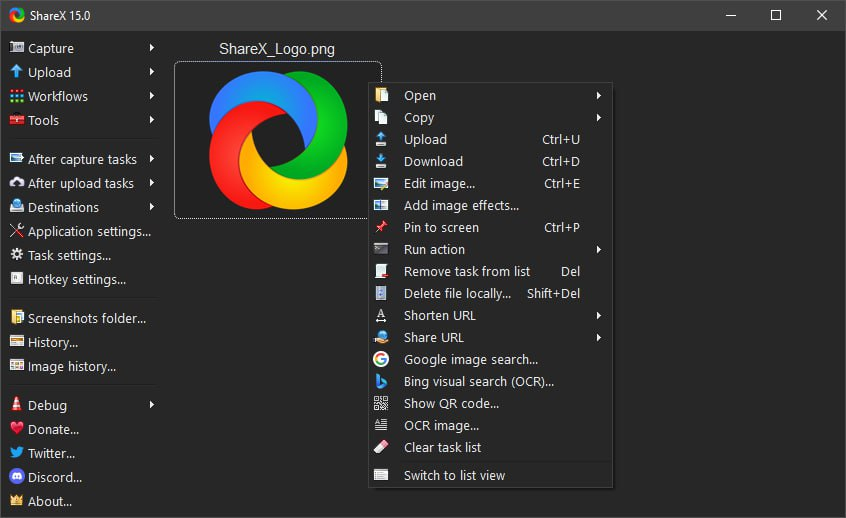 ShareX is a versatile and open-source screen capture and editing tool that stands out for its robust feature set. This powerful software offers a wide range of capabilities, including screenshot capture, screen recording, and advanced editing tools.
One of its key advantages is that it's entirely open source and free to use, making it accessible to a broad audience. ShareX also integrates seamlessly with various cloud services, allowing you to effortlessly share your captured content.
ShareX excels in its post-capture editing capabilities, offering an extensive array of tools for fine-tuning your captured content. You can annotate, highlight, blur, add text, and even apply various filters to your screenshots and recordings.
Pros:
Advanced post-capture editing tools

Customizable image and video editing options

Open-source and highly customizable

Support for multiple formats

Cons:
Steep learning curve

Windows only

2. Screen Studio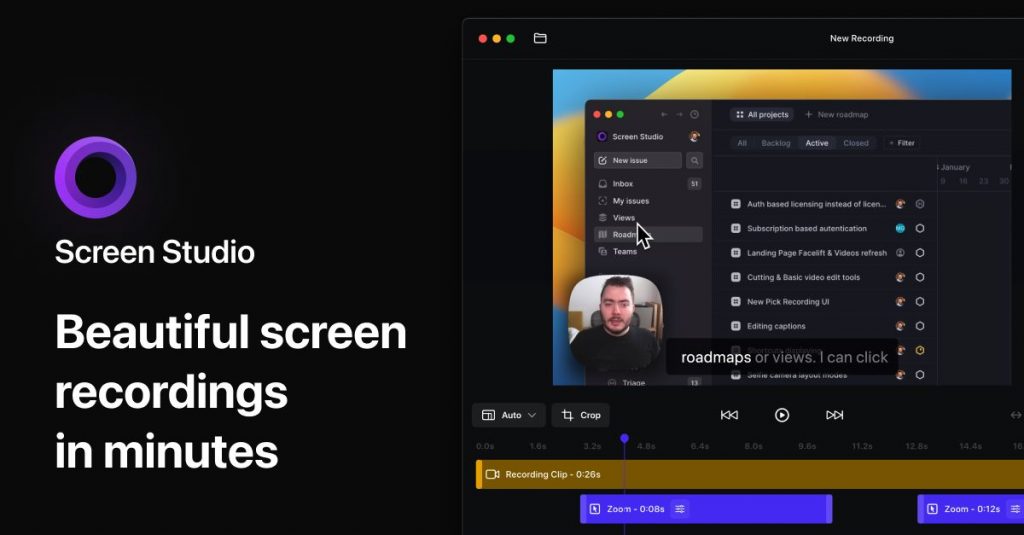 Screen Studio is professional-grade screen recording and video editing software designed for content creators and professionals. It distinguishes itself with its extensive video editing capabilities, offering features like text overlays, transitions, and special effects.
Screen Studio has some basic tools for post-capture editing, allowing you to trim, crop, adjust aspect ratio and speed of the video. It also includes plenty of customization options, including background and body changer, automatic zoom following mouse clicks, and more.
Pros:
Intuitive to use

Basic post-capture editing tools

Customizable layouts for enhancing recorded content

Export presets

Cons:
macOS only

May not be suitable for users who require extensive video editing capabilities

3. Loom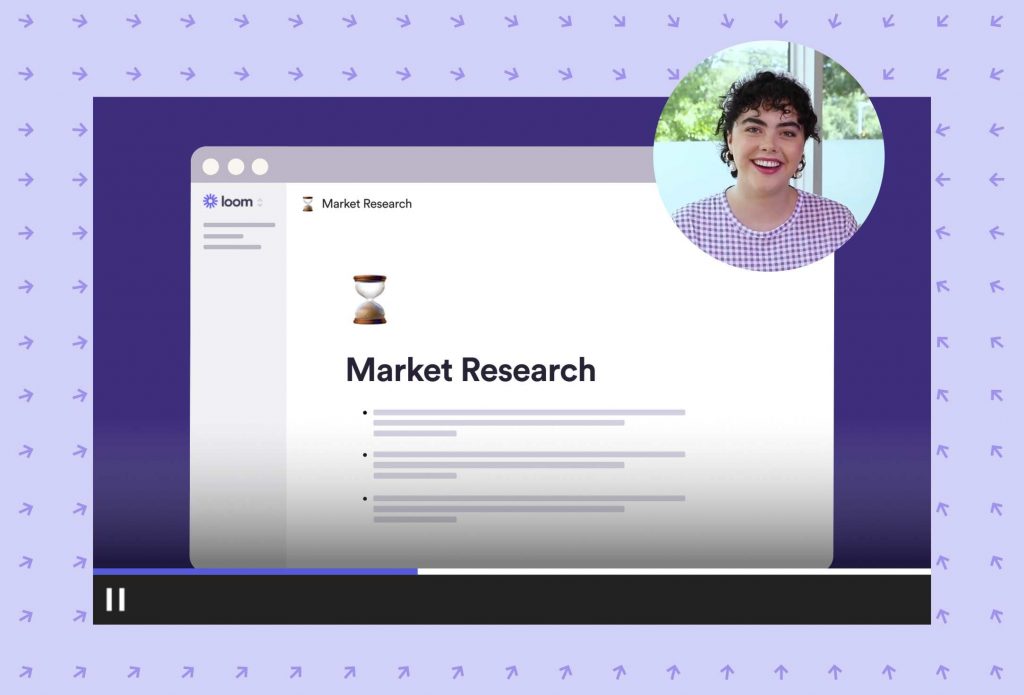 Loom is primarily recognized as a video messaging and screen recording tool, designed for quick communication and collaboration. Its strength lies in its ease of use, making it an ideal choice for capturing and sharing screen recordings swiftly.
Loom stores videos in the cloud, ensuring easy accessibility from any location. It also facilitates collaboration with shared video libraries, enhancing team communication.
Loom's editing capabilities are relatively basic and involve cutting and splitting video clips, making it less suitable for those with advanced editing needs. However, after recording you can take advantage of the AI suite that helps you create titles and descriptions, remove silences and filler words, and generate chapters and tasks.
Pros:
Ease of use

Basic editing plus AI tools

Cloud storage for easy access and sharing

Team collaboration features with commenting and feedback

Cons:
Less suitable for advanced video editing needs

No branding customization

4. Greenshot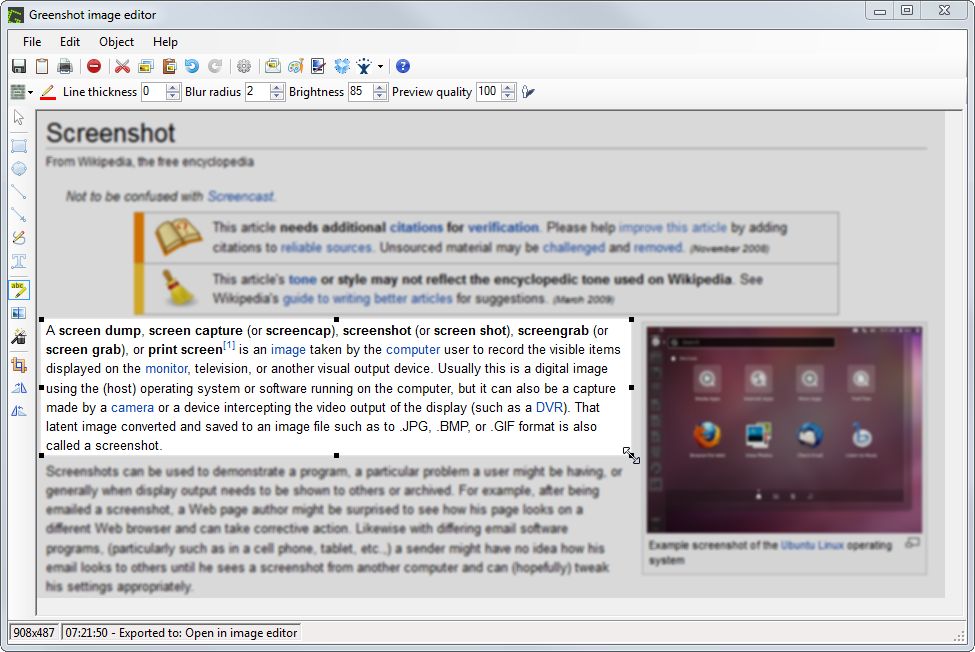 Greenshot is a lightweight, open-source screen capture tool that offers simplicity and user-friendliness. It excels in the quick and efficient capture of screenshots, making it a favored choice for those who need to capture images frequently.
Greenshot is free to use and open-source, and it offers customizable hotkeys for various capture modes, enhancing user convenience. However, it's important to note that Greenshot primarily focuses on screenshots and lacks video recording capabilities.
As for screenshot editing, the tool allows you to draw shapes, add text, highlight or hide information, and crop or enlarge images.
Pros:
Simple

Free and open source

Image editor with plenty of annotation tools

Customizable hotkeys

Cons:
No video recording features

Editing options are limited to annotating screenshots

5. TinyTake
TinyTake is a screen capture and video recording tool known for its intuitive interface and cloud storage integration. It greatly simplifies the process of sharing and accessing your captured content.
TinyTake provides basic annotation tools like arrows, circles, and boxes for both screenshots and videos, enhancing the ability to convey your message effectively. While there is a free version available, users looking for advanced features and extended storage options may need to opt for a paid subscription plan.
Pros:
User-friendly, suitable for beginners

Annotations

Cloud storage

Cons:
Limited features

Few editing options

Wrap Up
Choosing the right screen capture and editing tool is essential for creating high-quality content. When selecting software, it's important to understand your goals and select one that best suits your specific needs.
Consider your requirements, budget, technical proficiency or anything else. Whether you're looking for a basic tool with minimal features or an advanced option with extensive customization options, there are plenty of options available. We hope this guide has helped you narrow down your choices and pick the best one for you.