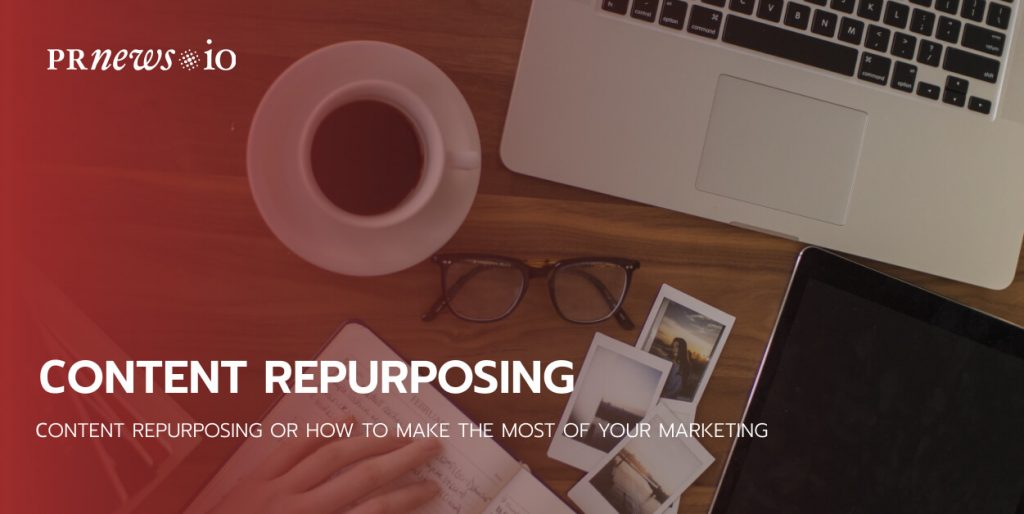 Content marketing is time-consuming and work-intensive. Creating an engaging, well-researched, and valuable for its readers piece of content isn't easy. It's a creative process that takes time, energy, and money. That's why it's so useful to apply the content repurposing technique to save effort and get the highest level of return possible.
By the end of this article, you'll find out the ways how to increase your productivity, and significantly accelerate your content production by putting in your creativity and a small amount of extra work. We'll tell you why content repurposing is important, how to choose content for repurposing, and explore the ways to repurpose your content.
What is content repurposing?
Content repurposing is a technique in content marketing that includes adapting existing content to different formats or platforms. Instead of just publishing a blog post or uploading a webinar, you could split it into a series of social media posts, transform it into an infographic, or use it as a basis for a podcast episode. The goal is to maximize the reach and value of your content by leveraging the work you've already done.
Keep in mind, that content repurposing is not just about copying and pasting the same material in a new format. Also, you have to adjust your content to different platforms and audiences. For example, the tone and style of a LinkedIn article might need to be changed to an appropriate Instagram video.
Why is content repurposing important?
Being active in content marketing means that a company cares about its customers and gives additional value to them. With content repurposing, you'll be able to constantly interact with your target audience and provide them with helpful information.
Frequent publishing of podcasts, videos, blogs, and social media posts will help you establish a strong online presence and good relationships with your clients and followers. As a result, your reach will increase.
You will work smarter instead of harder: do the research once, and create a compelling idea or hook one time. After, you can use the original core concepts to create multiple formats of content that are unique yet based on the same foundation.
Here are more benefits:
You can extend your resources
When you create a worthy piece of content, you want to receive maximum from it. Through repurposing, you can gain new fame for content even years later by republishing, adapting, and renewing.
You can reach new audiences
Content that works for one group of people may not work for another group. Through repurposing, you can make sure your content fits a variety of audiences. By creating multiple pieces of content based on the same topic, but written for the preferences of different demographics or platforms your content can become evergreen. You can change the hook or reposition data to make it a better fit for posts on a variety of websites or social media platforms.
You can create multiple types of content formats
Certain content formats perform better on certain platforms. So when you adapt your content into a variety of formats such as infographics, images, charts, and smaller graphics, you can successfully publish your content across multiple platforms.
You can achieve a variety of goals
Different types of content reach different types of target audiences and produce different results. Repurposing allows you to convert your story into the type of content best suited to help you reach your goals.
You can improve your SEO
Transforming your content into new formats helps improve your SEO. If you have different content formats with the same keyword, your position in search engines has more chance to rise.
If you do it with creativity, content repurposing can help you:
reach a new audience;
achieve multiple goals;
improve the deliverability of information;
save time and money;
present content in different formats;
reinforce your message;
establish a strong online presence;
improve organic visibility;
take care of SEO.
Now that you know why content repurposing is important, it's time to find out how to choose what content to work with.
How to choose which content to repurpose
To determine the right content for repurposing, you need to look at your metrics. You have to check the performance of your blog posts. Pay attention to the five main metrics in Google Analytics to estimate the success of your blog. These metrics are:
average time on page,
page views,
returning users,
goal conversion rate,
average pages per session.
Also, repurpose all lengthy and new pieces of content. All long-form content that you create – articles for blogs, posts for social media, research data, whitepapers, etc. – deserves repurposing.
Why? Repurposing content helps with content distribution. Doing this increases chances to show your material to more people: some people are not used to reading long reads, some – don't perceive particular formats, etc.
The ideas to repurpose your content
Content repurposing reuses the existing content in multiple ways. This could be taking one piece of content and splitting it into various pieces or it could be taking a bunch of smaller pieces of content and uniting them to create something new:
Turn One Piece of Content Into Multiple Pieces of Content
For example, you can split one webinar into many different formats of content: slides, infographics, short video clips for social media, convert it into podcasts, turn it into ebook, email series, blog posts, and so on.
Turn Multiple Pieces of Content Into One Piece of Content:
You can take multiple pieces of content and turn it into one successful campaign. For example, convert a series of blog posts into an ebook, a group of social media images into an album, an email series into a PDF guide, a group of audience questions into a guide, and so on.
Here's how to repurpose different pieces of the content in different ways:
Repurposing Blog Content
1. Update and republish old blog posts with new information
Updating posts with new information or adding more valuable points to a blog post helps your posts get a new life. By doing this, you'll give your followers a reason to revisit your website. This can result in additional sales leads, traffic/impression opportunities, and improving your reputation as an expert in your niche.
2. Turn a blog post into a social media post
Use the sub-headings from your original blog post, add some context under each, and share them as a Twitter thread. You can also do the same for adjusting the content to the LinkedIn or Facebook posts.
Instead of overviewing and publishing the entire blog post into a social post, take just one point and expand on it. This will give you 3-4 social media posts from one blog article.
3. Create video content from your written content
This could be a video sharing key findings from your research report or a video discussing the topic you told in your blog post.
Don't have a channel to share your videos? You can still use video by creating Loom video tutorials from your blog content. These videos in your blog will increase the time visitors spend on your site and also will cover another segment of the audience who likes watching rather than reading.
In addition, you can share these Loom videos on your social accounts and email newsletter.
4. Create multiple blog posts from one
There are plenty of blog posts that can be split into small pieces. Usually, it could be guides that cover a lot of material and it could be broken down in a short article. It would be relatively easy to do. These pieces could become a series that's posted over a couple of weeks or months.
5. Turn blog posts into podcast episodes
The podcast market boosted over the last few years and there are a lot of chances to monetize it. People can take podcasts to places where blogs are not read, such as the gym or commuting. Use the blog posts as a script for your podcast. Think about how to make it interesting to listen and do it. This requires relatively little additional effort. In addition, podcasting provides you with other platforms for content distribution, where the articles can't be placed.
6. Turn similar topic blog posts into an ebook
Alternatively, create graphics and convert a blog post into an ebook. You can also share its main points in slides and upload them to SlideShare.
7. Turn blog posts into PDF or gated content
Provide your readers with another format – a blog post or guide in PDF format or convert it into a checklist or template. Then, gate this content so you aren't only repurposing content but also collecting new emails and growing your subscription list.
8. Share blog content as Quora answer or email content
You can also use blog content and turn it into email content. You can create an email course from the content you already have.
Also, you can reuse the blog posts ar their parts and share them as answers to Quora questions.
9. Resize blog graphics as visuals for social media
It will give you more valuable content for your social media and also increase the chances of returning your followers to this article if you put a link to the original post. Creating the visuals of all dimensions in advance will save you a lot of time.
10. Design infographics from blog content
Highlight steps or takeaways from your blog post and create an infographic. This is a good format for social sites like Pinterest.
Repurposing Video Content
11. Turn webinars into multiple pieces of video content
If you split the webinar into several sections, you can make it easier for people to watch it. In addition, you can edit out useless segments that most readers will consider unuseful.
12. Repurpose a webinar into blog content
Alternatively, you can convert a webinar into one or more blog posts. The easiest way to do this is by transcribing the webinar through the online services. Then, you can use quotations from the webinar, turn it into an interview-type format, or images simply repeating the information. Keep in mind, not to make the blog post too long. If the webinar was long, you can summarize information, make a series of blog posts, or remove some parts that you think are not interesting.
13. Repurpose your webinar into a podcast episode
It's one of the easiest ways to repurpose because webinars and podcasts have one thing in common: audio. You can just take the audio track and edit it. Remove the awkward pauses, the computer noises, and the interruptions. Then, add your branding, formatting, and music to make it easy to listen. All you need is to find an audio editing service, many of which are free or cheap.
Repurposing Your Internal Content
14. Repurpose a whitepaper or research report into a blog post
Highlight the key takeaways from the whitepaper or the most interesting outcomes from a report and repackage them as a blog post.
You also can create a blog series highlighting the main takeaways, and release them over the course of a week or a month.
15. Convert reviews from your customers into content
Finally, a great option is using the power of testimonials. People listen to other people. Short testimonials in particular are great for creating graphics and posting on Instagram, Facebook, or Linkedin.
Final Words
For many marketers, a major solution to successful content is creating evergreen materials. However, now you know another option that fewer people are leveraging: repurposing content. There's no reason to use all your content only once and then drop it. Once you have one piece of content, it's easy to break it down and turn it into something else.
Not only does it save time and money, but repurposing content is an excellent way to unlock your brand story to audiences that would otherwise be impossible.
If you need help in content creation and repurposing, the PRNEWS.IO team will help you with this.
Content Marketing Platform
100,000+ media publications;
get backlinks to your product;
scale work with content distribution.