Companies
Internet Marketing Academy WebPromoExperts
The leader in the internet-marketing training in Ukraine. More than 6,000 people have completed the Academy's in-person and distance learning courses. Among the companies that have undergone corporate training: Uksibbank, PUMB, UN, Porsche Ukraine, Prom.ua, Pro-Pharma, Farmak, Ukrposhta, and many others.
Use promo code prnews for getting 10% off on all Academy courses.
UKRcontext
UKRcontext is an agency, specializes in performance marketing tools like digital advertising and digital analytics in the eCommerce, Marketplaces industries, and SAAS. The agency helps ambitious companies to attract customers and increase sales by making brands and products popular.
Use promo code prnews for getting 10% off for all services.
Jobsora
Jobsora eliminates the need to visit numerous websites, saving you time, and making your job search more efficient and simple. By the way, everyone can take advantage of Jobsora's free service that connects job seekers with relevant employers!
Jooble
Jooble is the modern job search platform. The site aggregates job offers from various employment resources. The job seeker gets full access to them through a single interface. Make the job searching simple and successful with Jooble.
Free access to all jobs in the world!
Jobeka
Jobeka is one of the best platforms for convinient and faster job searching in the Internet. Now you don't need to visit dozens of sites and look through a huge number of offers to find something suitable for you.
All you need to do is open Jobeka.com and run a large-scale search, which will give you information from all possible sites on the job you're interested in.
---
Services
Netpeak Software
Netpeak Software develops Netpeak Spider and Checker - tools for SEO professionals and webmasters. These tools solve everyday SEO tasks simply and efficiently.
Use promo code PRnews7 to get 7-days free trial access to all Netpeak Spider and Checker features.
Serpstat
Serpstat is a multifunctional SEO platform for search engine marketing professionals. Our goal to make you feel comfortable while using Serpstat.
Use promo code prnews25 for getting 25% off on all annual plans.
FREEhost.UA
Data-center FREEhost.UA has been hosting sites since 2003. The basic directions of work are virtual hosting, rentinf and placing of servers, cloud VPS and domains registration. Take the advantages from the round-the-clock technical support, excellent availability of sites and simple management of services.
Try hosting 7 days for free. Use promo code EYOA-PAHS-WHQX-O8NU for getting 10% off all services.
Proofy
Proofy is a mass email validation service. With Proofy, you'll clean up your email lists before you send them. As a result, your emails will be less likely to get into spam, you'll keep your domain rating and increase your email deliverability.
Use promo code PRNEWS40 for getting 40% off on all packages.
LOOQME
LOOQME — is a service for measuring the effectiveness of PR communications. The system helps you keep track of mentions of your brand in online and offline sources (Internet, social networks, TV, radio, press, news agencies, forums). You can also analyze the effectiveness of your communications: understand the coverage of your publications in the media, see the tone and role of mentions of your brand, and monitor the activity of your competitors.
Snov.io
Snov.io is a sales automation platform that offers tools for prospecting and working with leads, email contact verification, sending cold automated email campaigns, and email tracking.
Use promo code XPR10NEWSX for getting 10% off on all monthly tariffs.
Plerdy
Plerdy designed to automatically collect all the data that can show how to increase the conversion and usability of the site. Users get a heat map of clicks and SEO alerts. You can also use this tool to create intelligent pop-up forms without the help of programmers.
Use promo code Plerdy prnews for getingt 15% off on Business package.
Weje

Weje is a small team on-line collaboration service to collect data of any kinds, organize on whiteboards and share the beautiful and interactive presentations. Contact Weje on the live chat with a promo code to get a special offer.
Use promo code PRNEWSIO for getting a free 1 year of 5-user business plan.
Smaily

Smaily is an intentionally simple tool made to create and send out beautiful newsletters. It suits users of any background and proficiency, from small to enterprise-level businesses. With customer experience as a primary focus, Smaily delivers cloud-based email marketing services, ranging from content development to design, and consultation.
Click here and create an account to receive 20% off all services for 6 months.
---
Events
---
Go Global Awards 2022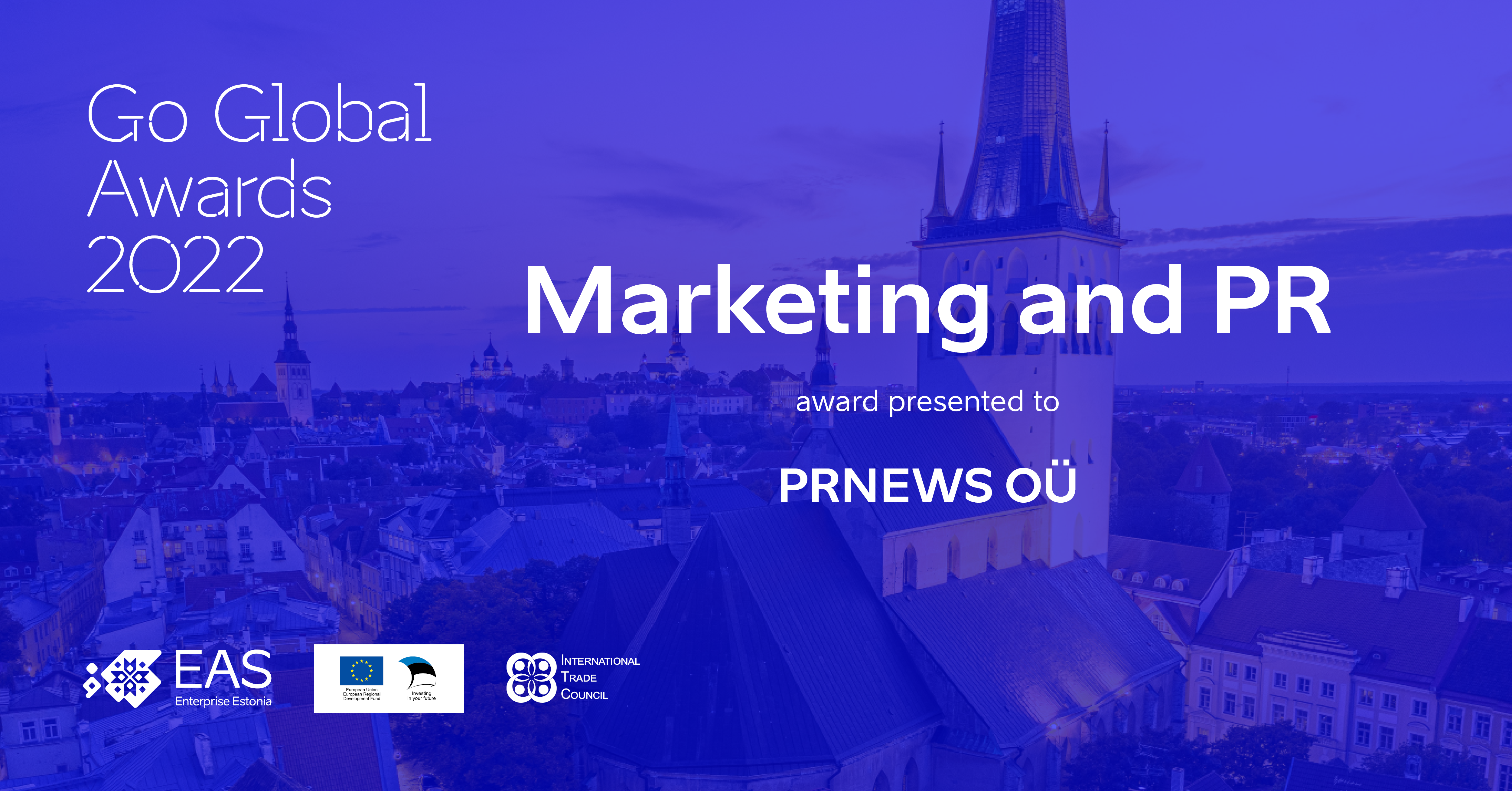 Masters of Email Marketing – Fall 2022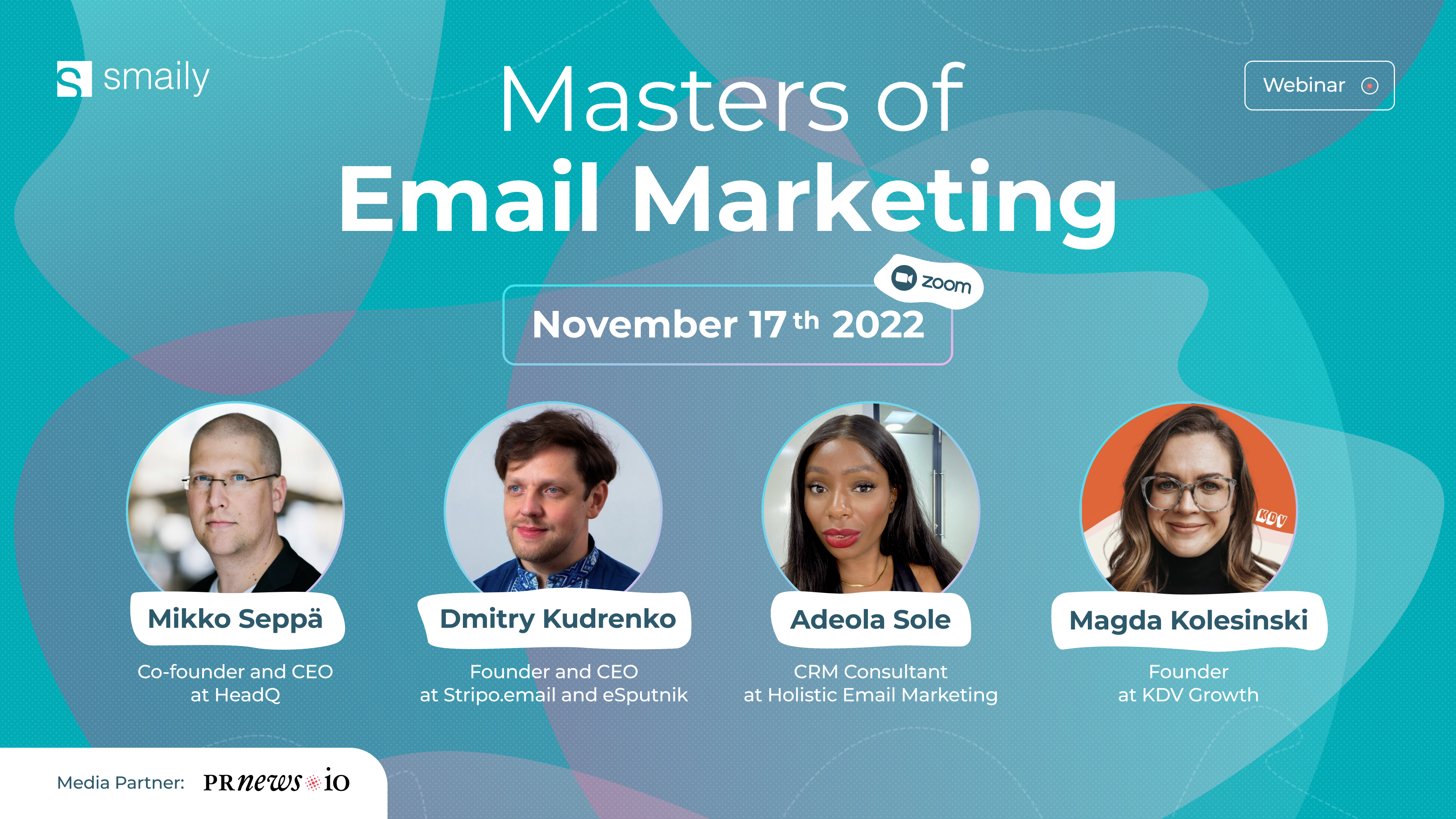 To get the most out of the momentum, Masters of Email Marketing – Fall 2022 is coming, and several international speakers are waiting to share their insights with you. And oh, how fresh this knowledge will be!
Speakers ant topics:

Mikko Seppä is the co-founder and CEO of the B2B Commerce platform HeadQ Digital Commerce and the author of three books.
Adeola Sole is a well-known international public speaker, webinar host, and Senior Consultant in Holistic Email Marketing.
Dmitry Kudrenko is the the Founder and CEO at Stripo and eSputnik.com - омніканальна CDP. He has over 20 years of experience in the software development world and half of it in email marketing.
Magda Kolesinski is the co-founder of KDV - Email Marketing Agency, a boutique email marketing agency working with purpose-driven DTC brands.
Join now