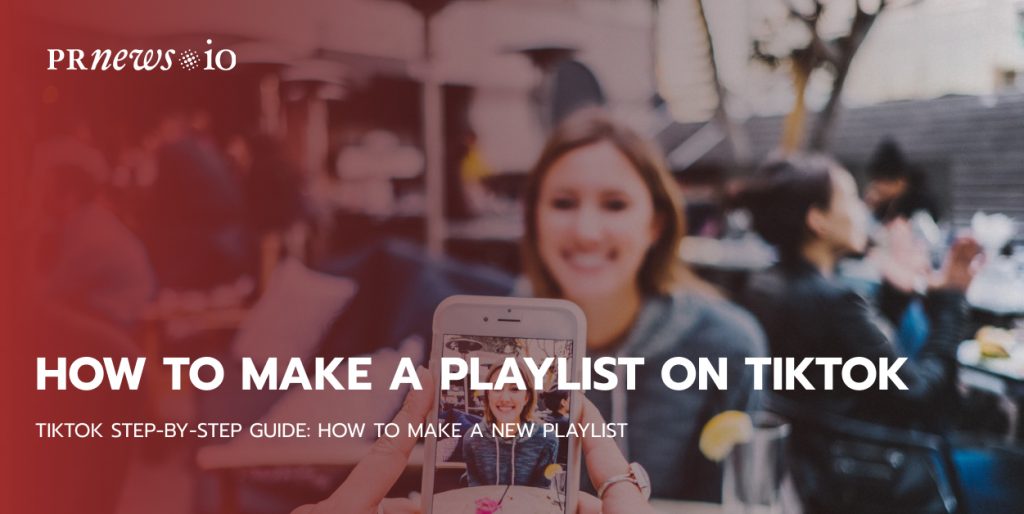 How to Make a Playlist on TikTok? TikTok playlist is a sought-after feature. You are very lucky if you have access to it. It is not complicated to create a new playlist once you get the detailed instructions below.
The creators of the TikTok platform have recently discovered that video playlists on TikTok help increase the level of engagement on the application. The "Playlist" feature was released on the TikTok platform. Most users find it awesome because it permits them to categorize the video content and show off your best content to the target audience. However, there is a catch to know. You should know that playlists on TikTok are available exclusively to certain creators. If you are the lucky one, this detailed tutorial will be handy. There are a lot of benefits of having access to this feature. So, let's see how to create a playlist on the TikTok platform.
TikTok Playlists: What Is It All About?
A TikTok playlist is a feature, which permits a creator to organize all the video content into order. Thanks to this feature, you can make it easy for the target viewers to consume your video content, which is the same that you watched. Such a TikTok playlist sits on your TikTok profile and is located above regular published/pinned videos. Such a playlist has a lot in common with the IGTV series.
The Reason To Make Playlists on the TikTok Platform
If you have a TikTok account and a lot of followers, it is important to make it easier and more enjoyable for them to consume your video content. Social media is all about easy to access and interesting videos. It is the key to go viral on the TikTok platform. Thanks to playlists, you make it much simpler for your viewers to follow your videos. Plus, they make your feed stand out. The biggest advantage of this feature is its episodic content that viewers enjoy a lot. You just let your followers watch videos one after another. You can make a TV-likeshow, with many episodes, which will motivate your followers to watch the next episode. It is a trick to boost people's engagement and come back to your channel.
Learn How to Get the TikTok Playlist Feature
As we have mentioned before in the article, the playlist feature is not available for all TikTok users. Only chosen TikTok creators are able to have TikTok playlists added to their profiles. You have to be in the club to have the possibility to create TikTok playlists in the "Video" tab, which can be found on the profile.
Many users wonder how to create playlists on TikTok. So, the only thing you can do is to wait for the TikTok platform to roll out the feature for everyone. However, you should not get upset.
In case you have access to the "Creator Playlists" feature, the process is very simple. We are going to see the most convenient way of how to create a playlist for your TikTok profile:
Start by opening your TikTok application.
Tap the "Profile" icon (see the bottom right corner of the screen).
Find the "Video" tab.
Hit the "Sort videos into playlists" option (do this in case you create the 1st playlist).
Hit the "Plus" icon, which is located next to the already existing TikTok playlist (do this if you have TikTok playlists).
The app will give you some easy prompts to name your newly created TikTok playlist.
Finally, select the preferred video content for your list.
How to Promote TikTok Account via Digital PR
Digital PR is an effective way to promote your TikTok account and increase your visibility online. Here are some steps to promote your TikTok account through digital PR, and how PRNEWS.IO can help:
Develop a PR strategy: Define your goals, target audience, and key messages. Identify the channels and tactics you will use to reach your audience, such as social media, email marketing, or influencer outreach.
Optimize your TikTok profile: Make sure your TikTok profile is optimized for search engines and user engagement. Use relevant keywords in your bio and video descriptions, and include a clear call-to-action that encourages users to follow and engage with your content.
Create compelling content: Develop engaging and entertaining TikTok content that resonates with your target audience. Use popular trends and challenges, share behind-the-scenes footage, or create educational videos that showcase your expertise.
Engage with your audience: Respond to comments and messages from your followers, and collaborate with other TikTok users to expand your reach. Use hashtags and participate in trending topics to increase your visibility.
Pitch to influencers and media outlets: Reach out to influencers and media outlets in your niche to promote your TikTok account. Offer to collaborate on content or provide them with exclusive access to your latest videos.
Use PRNEWS.IO: PRNEWS.IO is a powerful platform for promoting your brand or product through sponsored content and articles published on high-traffic news websites. You can use PRNEWS.IO to reach a wider audience and increase your TikTok account's visibility. By creating a campaign and selecting relevant publications, you can write an article that promotes your TikTok account and includes a link to it. Submit your article to the publication, and once it's approved, your article will be published on the publication's website. PRNEWS.IO provides detailed analytics that allows you to track the performance of your campaign and optimize your future campaigns.
By combining digital PR strategies with the power of PRNEWS.IO, you can effectively promote your TikTok account and increase your visibility online. Remember to create compelling content, engage with your audience, and measure your results to continually improve your strategy.
Conclusion: How to Make a Playlist on TikTok
Thanks to this short but precise tutorial, TikTok users are able to grow their presence alongside on your social media platform. Being active on social media is not easy. To attract new followers and keep your target audience fully engaged, you need to look for efficient ways, and creating playlists is one of them. By thinking about the comfort of your audience, you will gain popularity and trust of people who follow your video content. Do not forget that TikTok has millions of users all around the world, so you have to look for creative ways to boost your online presence. Try our tutorial and share your impressions. Good luck!