Instagram Stories are easy to create, but sometimes they may require a lot of effort to make them truly entertaining and viral. Thankfully, Instagram constantly updates its features and offers new tools to help make our Instagram accounts more fun. In this post, you'll see a detailed guide on who can and how to add music to the Instagram story.
To all your great photos or videos, cool filters, and stickers in the Instagram stories now you may add another important and fun feature — music. Instagram offers you a list of tunes from its own library and your favorite music streaming services, like Spotify, SoundCloud, Apple Music, Amazon Music, and Shazam. So in this post, I'm going to show you all the ways to add music to Instagram stories, but first, let's see who can't use this feature.
Who Can't Add Music to Instagram Story?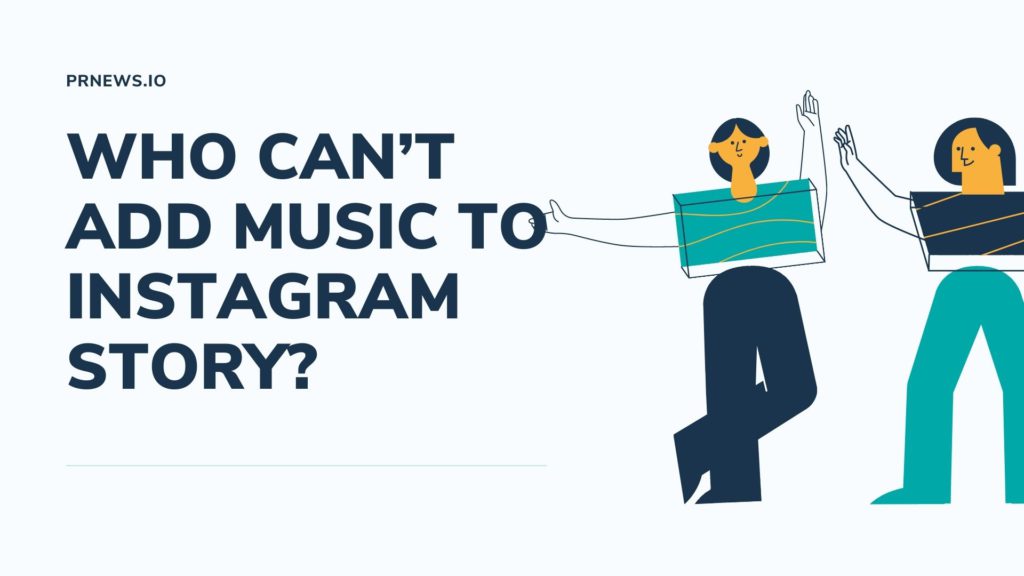 First, let's check if you can add music to the Instagram story. There are a few reasons why you might not apply this tool to your Instagram story, and they are:
You may live in a country where this feature is disabled. Now music is available in over 90 countries, but due to Instagram's strict copyright policy, it's still disabled in some countries.
Your Instagram app has an outdated version. You may need to update it.
You're trying to launch a branded content campaign. Due to copyright laws and Instagram's advertising policies, music and some other features like stickers and emojis are restricted in branded content ads.
I don't know when other countries will have access to this new feature, and if Instagram's licensing rules will change for business accounts, but I'll keep you updated. However, I know how to get more opportunities to boost your Instagram account – get a verification. Check out PRnews.io service that will help you get a coveted blue badge with ease.
How To Get Verified On Instagram
Now let's see if this feature of adding music to Instagram Stories is available for you:
Open the Instagram app and tap the camera icon in the top left corner or the blue plus icon on your profile photo.
Record a video, take a photo or upload it from your library. Then tap the sticker icon in a form of a square smiley face with the corner bent.
Find a sticker with the text "MUSIC," with little moving music bars next to it. You may also type "music" into the search bar to find it.
If you see the music option, you can continue adding music, and below you'll see a detailed instruction.
If you don't see this option, your account is included in one of the three categories explained above, and you can't add music from Instagram. However, even if you don't have this feature, you still have other ways to add music to your Instagram story. Move on to the end of the article, where I'll show you how to add music from third-party apps like Spotify, Shazam, Apple Music, SoundCloud, or Amazon Music.
Adding Music From Instagram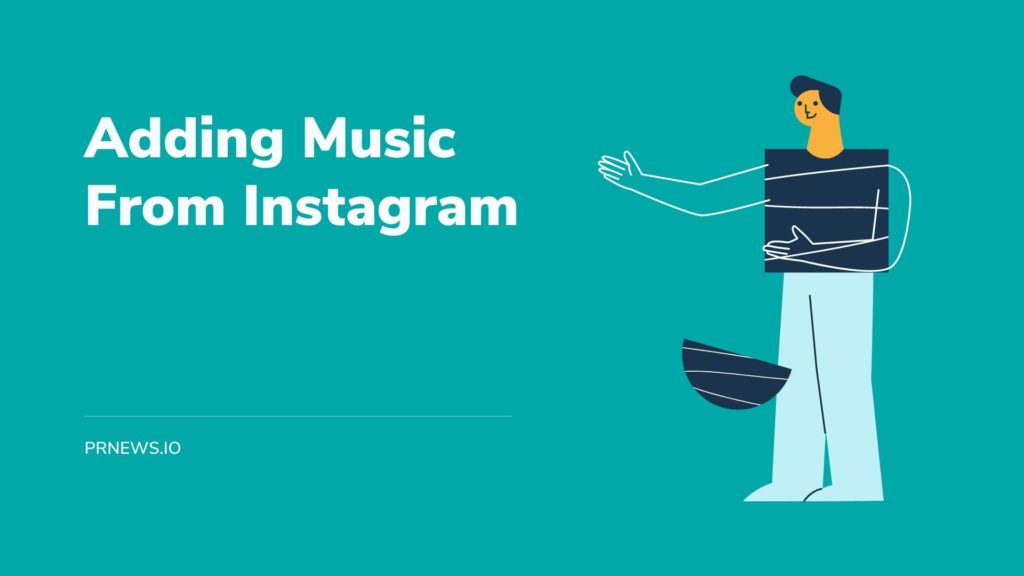 First, let's add music directly from Instagram:
Tap the camera button or the Your Story icon to create a new story.
At the camera screen, take a new photo or video or upload it.
Apply whatever filters or special effects you want.
Tap the Sticker icon at the top of the screen and tap the Music sticker.
Searching for Music:
At the Music screen, use the search bar at the top of the screen to look for a track. You can find it by the different categories song, artist, or album.
Tap the Play button to listen to a short track.
Adding and Editing Music in Stories:
When you've found a track, tap it to add to your story.
If you're using an image for your story, the music will play for a max of 15 seconds. You can also choose how long you want the music clip to play, but no more than 15 sec.
You may also choose what portion of the track plays in your story:

Move the slider bar until you find the part of the song you want to play.
Tap the photo icon to change its image.
If you want to use a track for a video Instagram cuts into separate 15-second parts, but the music will play for as long as the video runs.
Adding lyrics of the song:
Some songs offer lyrics that appear on the screen as the music plays. You can customize it with different fonts and designs. When someone is viewing your story, they can tap the lyrics to find out more about the artist or listen to the song.
Placing the Music Sticker:
Once you've chosen a track, the song appears as a sticker in your story. At this point, you have some options. Some songs may have multiple thumbnails, tap on them and you will see the designs. Also, you can choose the place of the sticker in your story by moving it around the screen with your finger.
Change the size and orientation of the music sticker:
Pinch and expand two fingers.
Double-tap it to return to the previous look, which changes the appearance of its thumbnail.
Tap Done to return to your story.
If you want to post a video, you can do even more with your sticker:
Hold down on it and you'll be able to place this sticker on a specific object or person in the video. This sticker will move along with the object or person as it moves in the video.
Publishing and Viewing Stories With Music:
When you've finished customizing music, tap the Your Story icon to publish your story. To look at your story, tap the Your Story icon. Your story appears with the music automatically playing. Tapping the song image pauses the track and brings up a music player with a play/pause button and other options. Your followers can check your story and play the music in the same way.
Adding Music From the External Services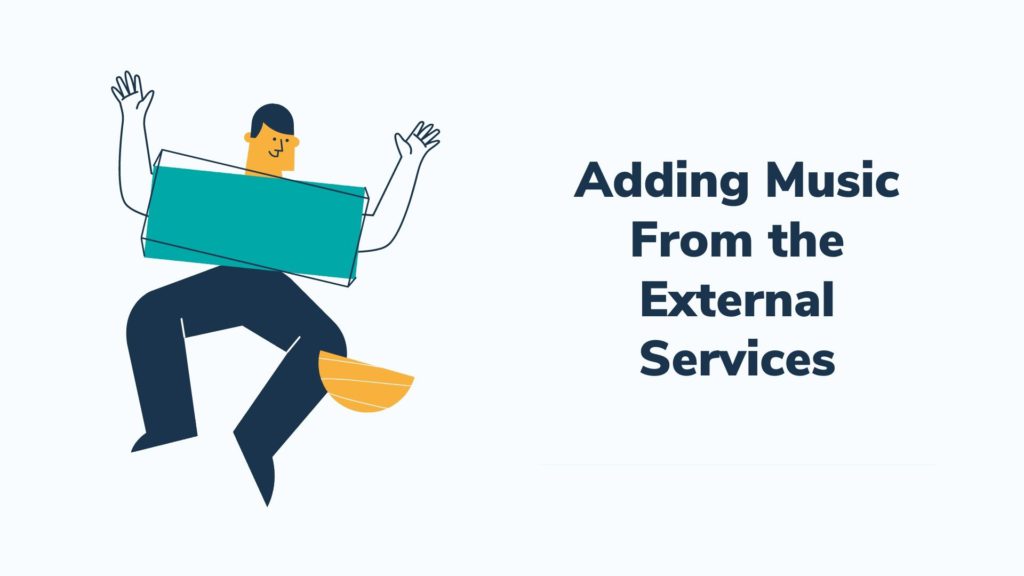 Adding music from Spotify, SoundCloud, Apple Play, Amazon Play or Shazam requires you to have mobile apps of these services.
Remember, if you add music from the external apps, Instagram will check your story for copyright infraction. If it is identified, they will remove the sound from your Instagram post.
To add songs from the apps to Instagram Stories follow these steps:
Open the Spotify, SoundCloud, Apple Play, Amazon Play, or Shazam app.
Find and choose the song that you want to share with the Instagram story.
If the song is currently playing, find the three dots on the right and tap 'Share'.
If the song isn't currently playing, 3D Touch or long-press on the track, then choose 'Share Song'.
Among the sharing options choose one for Instagram Stories.
Tap it and you're taken to your Instagram story, where your selected song appears with its icon.
Add text, GIFs, stickers, filters, and other effects to your story.
Post it.
Is your Instagram account ready for verification?
Final Words: How to add music to Instagram story
Thankfully, Instagram offers lots of tools to help express yourself and have fun. Instagram is about more than selfies and food shots. Boost your Instagram with Galaxy Marketing. Make your Instagram account as fun as possible and these Instagram tips will help you boost your profile.