Face it, social media has opened new possibilities for just any industry and niche out there. And the food industry is no exception, too. Instagram has taken the world by storm for its creativity non-stop. As a result, this has led to the rise of food influencers who share their post recipes in a much more captivating way.
The following 20 most followed food influencers to consider if you want to give your restaurant, café, or food business a boost. In case you are just looking for the answer, 'What should I cook today?', this list is the solution, too. You'll certainly find inspiration for culinary creations.
How To Get Verified On Instagram
The biggest names on social media we gathered here could help make your food cravings go wild. They all have their own unique take on how they share their knowledge with the world. Now let's get through this list of delicious food influencers together.
Top 20 Food Influencers:
Gordon Ramsay: 12M Followers

Gordon Ramsey opens up our list of the most followed food influencers on Instagram as of today. With 16 Michelin stars in total, Ramsey had become one of the most influential chefs out there. He is a well-known Global British chef with a string of saucerful restaurants across the globe. His unique personality adds more interest to his TV shows to watch.
Jamie Oliver: 8.6M Followers

Even if cooking is not your thing, odds are you've heard the name of Jamie Oliver. He is one of the dominant forces in the culinary industry. Also, he is a British chef, restaurateur, and one of the world's top food influencers on Instagram. He is known for nutrition and healthy eating as well as his minimalistic and clean approach to cooking.
Rosanna Pansino: 4.5 Million Followers

Rosanna Pansino is an award-winning American YouTuber, baker, actress, and author. Her first book, The Nerdy Nummies Cookbook, has a whopping 420 color photos of "sweet treats for the geek in all of us". To add, it is an NYT bestseller. Rosanna is one of the most-watched and followed food influencers on Instagram.
Jonathan Cheban: 3.5M Followers

Jonathan Cheban is a self-proclaimed 'Foodgod'. he is a TV personality, entrepreneur, and former publicist. He is best known for his friendship with Kim Kardashian. Over the years, he has worked hard to make a name for himself. As he says, he goes out to eat every single day and almost all of his content is related to food.
Ree Drummond: 3.4M Followers

Once started as a successful family blogger, Ree Drummond is now one of the most beloved moms in food. To add, she is the author, food writer, photographer, and TV personality. Later, her success has turned into a couple of books and a Food Network show. One thing you will never find her cooking is banana bread, banana pudding, or banana splits.
Rena #healthyfitnessmeals: 3.4M Followers

Rena Awada is a founder of Healthyfitnessmeals.com. This is a resource full of mouth-watering & healthy recipes made with real food. She is a mom of 5 who skillfully turned her passion for healthy living into success on Instagram. Her plan to become a pharmacist didn't happen. Yet, she is one of the top food influencers on Instagram today.
Foody Fetish: 3.4M Followers

Yanni Georgoulakis is the name behind the Foody Fetish food account on Instagram. He is a well-known Instagram food blogger and influencer. His claim for fame? What once started as a side hustle has become a viral sensation later. He showcases all types of foods, drinks, and even hotel destinations through a story. Incredible footage of mouth-watering foods is proof of his background in photography.
Martha Stewart: 3.1M Followers

Meet America's first self-made female billionaire. Martha Stewart is most known for her magazine and TV show. To add, Martha Stewart had a hand in digital content, mass-market homeware production, food wares, and more. In 1996, she was named as one of "50 Most Beautiful People in the World" by People's magazine.
Tieghan Gerard: 2.9M Followers

Living up in a little mountain town in Colorado, Tieghan Gerard has turned her passion for cooking into a very successful business. Today she is one of the food gurus on Instagram followed by almost 3M of people. Her Insta is full of recipes inspired by people and places she loves. She is known also for her bestselling cookbook 'Half Breakfast Harvest Super Simple'.
Yolanda Gampp: 2.8M Followers

Yolanda Gampp is a woman who loves cake. Moreover, she makes cakes that don't even look at all like cakes. She's the face of How to Cake It (YouTube) and people can't help but watch her. She's using social media to show the world cake tutorials. Her Instagram feed is the art of Instagram-worthy grids. Get inspired by her feed.
Ina Garten: 3.1M Followers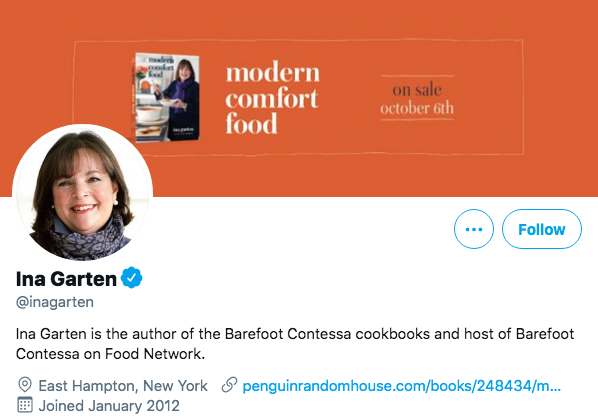 An enthusiastic author Ina Garten went from the staff member of the White House Office of Management & Budget to an Iconic Chef. Today she makes the list of the most followed food Instagram influencers. Her food network show 'The Barefoot Contessa' has been on the air for 13 years.
My new book Modern Comfort Food will be available on OCTOBER 6th and I'm going on tour – VIRTUALLY!! This means you can come to the event in your pj's and join me with Jennifer Garner in LA, or Sam Sifton in NYC without ever going through airport security!https://t.co/lgGPqoUjk4 pic.twitter.com/wkaG0duu8l

— Ina Garten (@inagarten) September 17, 2020
Mariam @cookinwithmima: 2.3 Million Followers

Mariam is a mother of two boys and a content creator with a love to cook. Being originally from Lebanon, Mariam is passionate about food. Today she shares her passion for food and cooking with over 2.3M followers on Instagram. Give her page a shot and enjoy a riot of colors.
Shonda Wagner: 2.2M Followers

Shonda Wagner is a 43-year-old fit mom, food & lifestyle blogger. It's hard to believe, but she once weighed over 200 pounds. Since then, she has changed a lot. Today she is a super-fit mom on social media and has amassed 2.5 million Instagram followers. Her Instagram feed is full of insights on how she balances work, fitness, the day-to-day grind, and of course living and eating healthy.
Yumna Jawad: 2.2M Followers

Next up in our list of the most followed food influencers on Instagram is Yumna Jawad. Once started Feel Good Foodie as a fun outlet grew to a full-time career for Yumna Jawad. Thus, she has built an influential, health-minded lifestyle brand. Her Instagram feed which has more than 2 million followers is full of nutritious, delicious, and family-friendly meals.
Cesar Gonzalez Cocinero: 2.2M Followers

Сhef César Gonzalez is one of the most popular food influencers on Instagram. Gonzalez has gained fame for his recipes on Instagram. He is a restaurant entrepreneur who is passionate about his work, food, and social media. César González is the proud co-founder of the Bocas Grill and Bocas House restaurants.
Dana Shultz AKA Minimalist Baker: 2M Followers

Dana and John Schulz have been running their hugely successful food blog since 2012. It's a place full of simple recipes that can make you feel good. Most recipes are vegan, making it possible to enjoy those for everyone. They put out quick simple recipes 3 times a week, non-stop for 9 years. Huge!
SkinnyTaste Healthy Recipes: 1.7M Followers

Gina Homolka is the food blogger behind SkinnyTaste. She is the author of 3 widely popular cookbooks. Started with a love of photography and healthy cooking in 2008, Homolka has now grown into one of the most followed food influencers on Instagram. She posts also dietary recipes including gluten-free, keto, low carb, and more. Besides, she is a New York Times Best Selling Author.
Dave Chang: 1.6M Followers

Started as an English teacher, today he is one of the most influential people of the 21st century. And David Chang proudly holds that accomplishment. For a good reason. He changed the way America eats. Driven by his passion for cooking, he opened Momofuku Noodle Bar in 2004, which is grown to a global empire.
Rachel Maser: 1.4M Followers

Rachel Maser's claim for fame? With the cell phone on her hands, she built a multi-million dollar clean-eating business. Started as a meth-addicted single mom, she had a huge jump to a businesswoman followed by 1.4M of people. Huge, right? Bright, cheerful pictures of the food, accompanied by detailed recipes, are the basis for Maser's Instagram feed.
Andrea Hannemann: 1.2M Followers | Food Influencers

Do you want to know what it is like living in Hawaii? Then follow Andrea Hannemann on Instagram. She is an American social media star and one of the popular food influencers on Instagram. Her enormous Instagram feed is full of Earth-friendly content. That is a treat for all foodies out there.
???????? ?????? 32.5K Followers | Food Influencers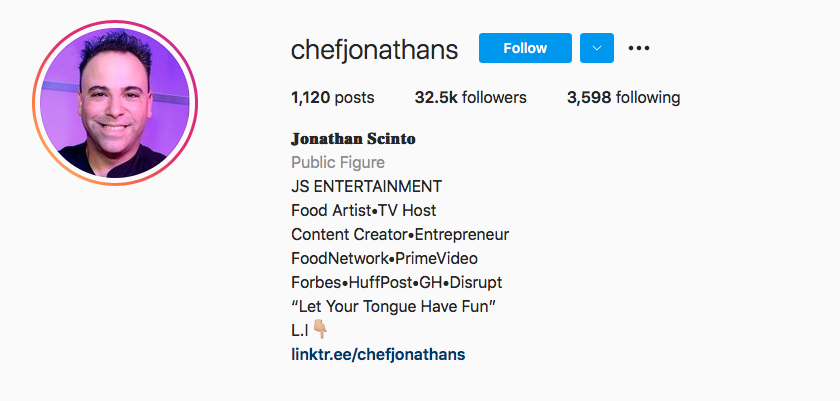 Instagram | Twitter | Facebook
Chef Jonathan Scinto is a chef, TV Host, creator, spokesman, and entrepreneur from Long Island, N.Y., who decided to change careers and industries at age 39.
Being a part of the Italian and Jewish family, he combinates rustic Italian flavors and Asian influences to create modern fusion cuisine. His mother was encouraging Jonathan to experiment in the kitchen using the blender to make crazy mixtures, scrambling eggs on the floor, and even practicing his knife technique on their new vinyl chairs in the house. When Newsday interviews Chef Jonathan about his cooking style, he told the interviewer that he relies on his design education to create his mouth-watering dishes.
Content Marketing Platform
100,000+ media publications;
get backlinks to your product;
scale work with content distribution.
Final Words: Food Influencers
Looking for more food influencers on Instagram? Great! Look for other blue-badged well-known professional food bloggers, chefs, or just people who love to cook. There are a lot of those. All in all, who said you can't be the other thing? Yet, to get mentions on a global level, take care of that desired blue seal on your Instagram account. Need assistance? Turn to pros, they will ease that verification process for you.