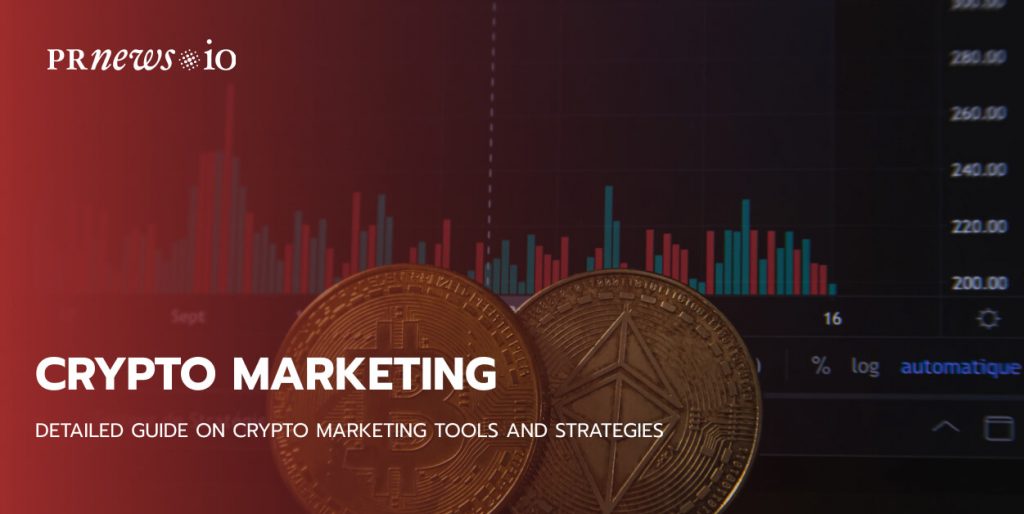 You work hard on a new crypto project and you need to think about a crypto marketing strategy that actually works. We are going to see the most efficient approaches that bring fast results.
Nowadays, the ways of advertising products and services are unlimited, but not all of them give your business guaranteed success. Let's compare several marketing cryptocurrency strategies for you to make easier choices and apply new skills into practice during your project. Each strategy works perfectly for products in the up-to-date crypto market. Many social media influencers on YouTube, Instagram, and Twitter follow these tips for delivering their brand messages and building tight connections with followers and potential investors to inspire trust.
Fast Development of the Crypto Industry
The cryptocurrency marketing industry tends to get enormous traction and feedback from investors, millionaires, and the average public. For example, Tesla has bought 1.5 billion dollars worth of Bitcoin and Microstrategy has bought more than 4 billion dollars. Such brands as Nike prefer to deal with popular NFT collections. More and more people are getting used to crypto. They start treating it as an alternative currency, which takes a stable position in the mainstream business world.
Hundreds of NFT or Defi-related crypto businesses appear in the market on a regular basis. We can download various crypto applications with many advanced features and user-friendly interfaces. With the fast growth of the crypto market, the level of competition grows too. That is why it is essential to build a smart crypto marketing strategy in your arsenal.
Read more: ICO PR: How to Conduct a ICO Advertising Campaign in the Media
TOP Crypto Marketing Strategies
Starting a new crypto business is interesting and challenging at the same time. You will need to accomplish a project and learn many things at the same time because bitcoin marketing trends change all the time. You have to follow both old and new rules in order to be on the flow and stand your numerous competitors. Let's boost your crypto campaign by applying one of the best crypto marketing strategies.
Crypto Twitter
According to recent marketing studies, it is essential to create positive emotions and associations about crypto products/services on the Twitter platform as it leads to increased currency prices. It is recommended to integrate Twitter into your crypto project. It will help your clients to get informed and engaged in the current projects.
Make sure that you have created a Twitter account, which is dedicated to your current project. Do not forget to share posts on a regular basis. Your followers want to be well-informed about the project's progress or new product/service releases. Keep your followers involved in your project. You can have accounts on other social media platforms. Do not forget to insert the links into your tweets. You can build your Twitter account alone or hire the professional services of an SMM company to achieve the best results.
Medium
If you have just launched a new crypto project, you need an efficient tool to present it to your clients, explain the details, share news, and publish interesting posts. Medium is the best tool for such tasks. It is easy to use for writing detailed explanations on how to buy crypto coins, coin history, brand news, project updates, etc.
You should confuse Twitter and Medium. There is a significant difference between them. Using Medium, you have an opportunity to write blog-like articles. It is a way to skip the character limitations (280 per tweet) of Twitter. If you want to achieve the best results, you should use both Medium and Twitter by interlinking them in your posts. It is a way to bring organic traffic to your social media accounts.
Content Marketing Platform
100,000+ media publications;
get backlinks to your product;
scale work with content distribution.
Telegram Community
In order to ensure the success of your crypto project, it is essential to build efficient communication with your target audience. Use such channels to build trust with your clients and business partners in the crypto world. Telegram is the easiest channel to do this.
After creating your own crypto-related Telegram channel, you will need to update it on a regular basis. Sharing news, running crypto events, and answering frequently asked questions will help you improve your crypto marketing strategy and boost brand awareness.
Do not limit yourself to a single Telegram channel. It is officially allowed and even recommended to have a couple of active channels for managing your followers better. You can keep one channel for corporate announcements, the second channel will be devoted to crypto-related discussions, and the third channel for FAQs.
KakaoTalk
Are you dreaming of entering international markets with your crypto project? That you should discover one of the most popular platforms called KakaoTalk. It is efficient for promoting your crypto business in Korea.
It works as a messenger application and is widely used in South Korea, a country that invests a lot in cryptocurrency projects. You should pay attention to this market if you want to achieve fast results and big profits.
When you start using KakaoTalk, make sure you focus on a single chat room. The platform blocks users when they start using several chat rooms, like in Telegram. When you have some crypto-related announcements or brand events, or you simply want to communicate with your followers, use your official chat room.
Web Design
When you start a new project and want to boost your crypto marketing strategy, you have to devote enough attention to creating your own website and web design. It is the first thing your investors will see and the first impression they will have about cooperation with you.
It is essential to find and set a proper web design, which depicts your crypto project identity. Make sure you include all the details and information your potential investors need to know. It can be the description of your team, roadmaps, whitepaper, etc.
Thanks to your well-designed site, you can attract a lot of new people who want to invest in your crypto project. Your professional website will demonstrate your serious intentions. People are ready to invest money only into projects they trust, so include enough resources to convince people.
Airdrop
Would you like to boost your crypto brand awareness? Airdrop is the must-visit marketing event you can't miss. The idea is to motivate people to accomplish your missions and give them rewards. You can share a certain amount of coins with new clients who have just started following your channel on Telegram. Do the same rewards when new clients share your crypto project via SNS. Airdrop is an efficient tool to share events about your project and encourage people to spread the word about their experience with you. It is a way to attract more investors and members to your crypto channel.
Ask Me Anything
As soon as your crypto project has gained huge popularity, a lot of people will be curious about your success story and your professional tips. People can ask questions via the Ask Me Anything platform. It is an excellent channel for communication to boost your crypto marketing project.
You should check the FAQs from your investors and be ready to provide detailed answers. You can find an interviewer whose answers you will answer. Make sure that your answers are informative, understandable, concise, clear, and written without grammatical/spelling mistakes. It is a way to demonstrate to your investors and clients that you care about them and are always open to communication and further discussion of business cooperation.
Paid Promotional Campaigns
You'd better get familiar with the main online marketing tactics. Some of them you should do manually by means of paid marketing services platforms, such as YouTube, Google, Twitter, Fb, etc.
The main purpose of such services is to make your crypto project well-known online. You pay media platforms for displaying eye-catching ads, banners, and videos about your crypto project. It is a way to attract new investors/clients and gain organic traffic. Paid promotion is very efficient in redirecting the target audience to your site or crypto-related links.
You just need to make a deal and your crypto promotion will run automatically. You just need to target the right audience to achieve the desired results.
Marketing Emails
Direct messaging is one of the most efficient marketing techniques to get the word out about your current cryptocurrency project. Your company should not lose the opportunity to send out well-done marketing emails to potential investors and clients. Do not get upset that some emails you send will end in the spam box or will be simply ignored. Some of them will reach the needed recipient and this is worth your time and effort. You can make your crypto marketing strategy more effective by collecting as many targeted contact details of your potential investors/users as possible and start messaging them directly.
As practice shows, it is more efficient to send mobile messages. You will have higher chances to be read and responded to by interested people. In order to skip this time-consuming task, you can use the services of a professional SMS marketing agency or purchase specialized software for this marketing task.
Display Marketing Campaigns
Display campaigns are another efficient form of paid advertisement. It is common practice for crypto businesses to promote their projects on various popular websites.
You can choose among various kinds of ads: photos, audio, video, flash, or simple and laconic text content with special visual effects. Think carefully about which type of ads will attract the biggest number of potential investors.
Crypto Marketing Tips
Mark Pauler, CEO of Hodlers.pro, an ICO/NFT/Airdrop aggregator, provided these suggestions.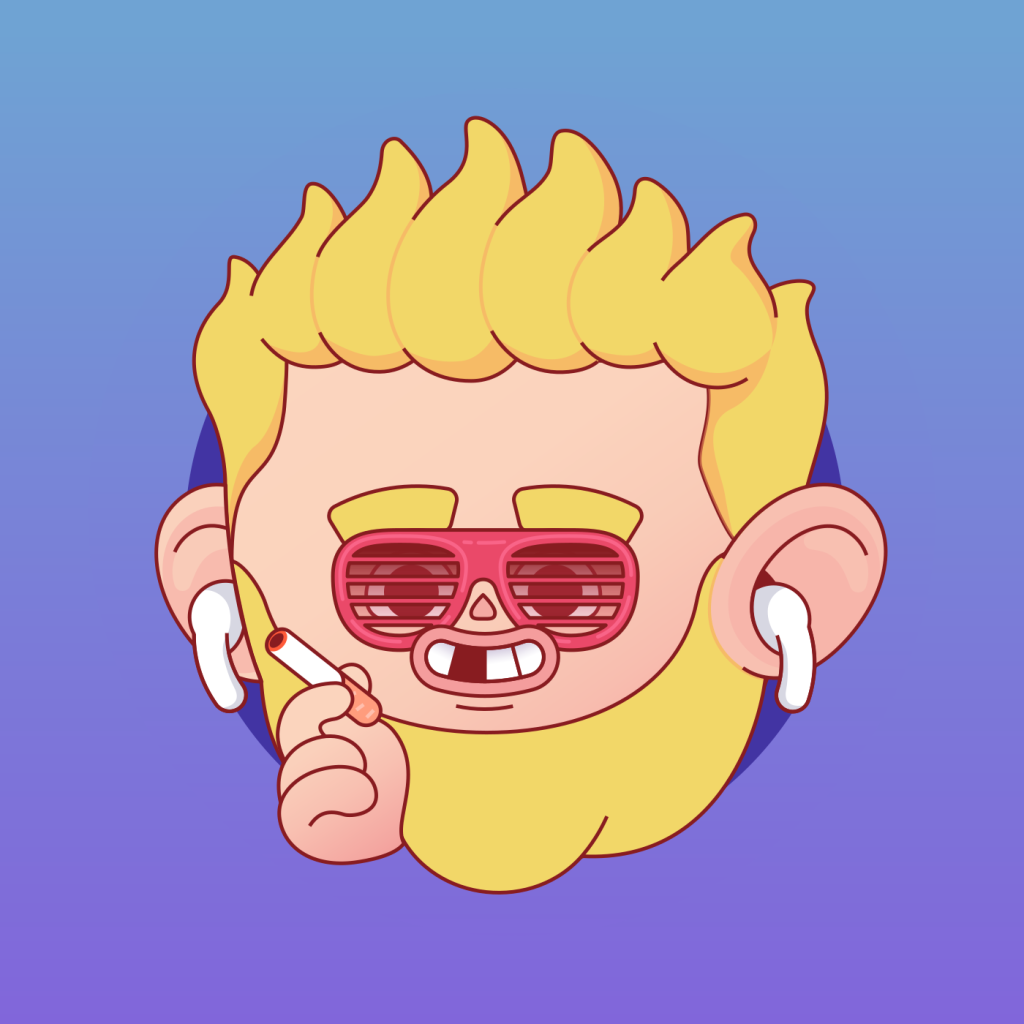 One of the top ways to market a crypto project is to have a solid understanding of what makes it unique and valuable. This means figuring out what sets it apart from other similar projects and how it can solve specific problems or meet the needs of certain people.
Once you have that down, you can use it to create marketing messages that will really speak to your target audience and help you stand out from the competition. To easily onboard new users who might have a hard time getting on the right track with crypto, you might use web3 marketing tools. For instance, you can use services that distribute your NFTs with claim links or QR codes.
Another important thing is building a community of people who are passionate about your project. This can involve things like being active on social media, hosting events, and engaging with people on forums and other online platforms. Having a strong community can not only generate buzz about your project but also provide valuable feedback and support for its development and growth.
Tips for Marketing a Bitcoin Website
The last couple of years have brought along a considerable increase in bitcoin-related websites, and nowadays, companies and start-ups throughout the world have begun focusing on digital currency. However, successfully promoting a crypto-related website can be a bit difficult at first, given the niche.
In this article, backed by a few facts from BitcoinPlay, we will attempt to offer some marketing tips for those involved in the digital currency ecosystem.
1. Targeting
At this time, numerous bitcoin websites only target their content to those who are specifically interested in digital currency! Because of this aspect, regardless of the marketing effort being put in, the audience can only increase to a certain point. A great strategy would be to attempt targeting people who are involved with a couple of more niches that can be linked to bitcoin, for instance: investors, trading, business, start-ups, the internet of things, other digital currencies, finance, economy, banks, tech, and more! These are all niches filled with people that have likely heard about bitcoin, and are willing to give it a try.
2. Don't be too technical
While most people that are involved with bitcoin on a daily basis may know the ins and outs of digital currency, your marketing campaign shouldn't be based on technical terms that common people wouldn't understand. The more open your campaign is, the higher the chances for other people to read your posts, understand the services being offered, and become customers in the future once they try using the currency.
3. Backlinks
Getting a good number of backlinks is a surefire way to boost your website. However, due to the niche in question, many webmasters are afraid of featuring posts as they believe that their readers wouldn't understand the terms, or aren't interested in the digital currency. However, when writing a featured post, you don't have to relate to bitcoin directly- therefore, a post meant for gathering backlinks can focus on a different subject, yet somehow relate to bitcoin. A good tip in this regard would be to start your very own outreach campaign, focused on websites that are based on niches that can be linked to bitcoin, as mentioned above. PRNEWS.io will help you to choose an appropriate news hook and publish the sponsored post for receiving backlinks.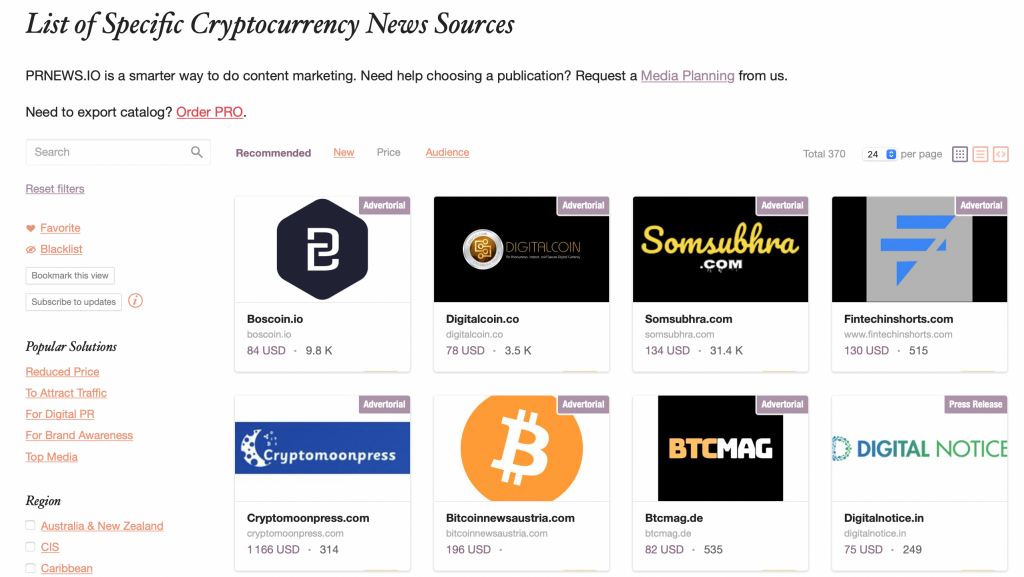 4. Accept digital currencies as a form of payment
There is nothing more discouraging than a website related to digital currencies that offers a product or service, yet only accepts fiat as a method of payment. If you have a website on this niche, then make sure that regardless of what you are selling, bitcoin, and perhaps other digital currencies as well, are available as methods of payment. After all, even big companies such as Expedia, Microsoft, Overstock, Dish Network, and Dell are fans of the coin.
As mentioned at the beginning of this article, there are now hundreds of popular crypto websites, therefore, these can be great sources of spreading content. The prices usually aren't too high, and a single, well-written post on one of these blogs can attract a huge number of visitors. A good tip in this direction would be to avoid using your entire budget to post on a single website- rather, split it to multiple popular sites, especially those that have shown a focus on the type of work that your website does. You can select desirable portals for publishing from our marketplace. We have found more than 200 crypto-related websites from around the world for you.
By keeping these aspects in mind, the marketing process of a crypto-related website shouldn't be too difficult! Just make sure to focus on what you are trying to achieve in order to guarantee the best results.
Conclusion
Now you have access to the list of the best online marketing tools and techniques to boost your crypto project. You will build trust, and credibility, and increase profit much faster thanks to new approaches in crypto marketing. Keep on working on enriching your marketing content strategy in order to provide maximum value for your target audience.
Read more: