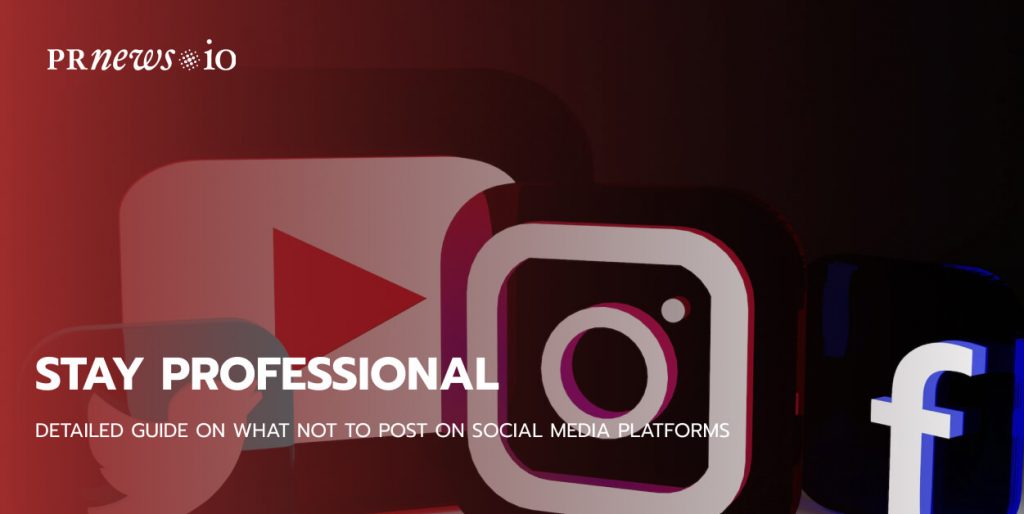 When you write content about your brand for social media platforms, there are strict rules to follow. When you have a clear understanding of what not to post on social media platforms, you minimize the risk of spoiling your reputation and the work you have devoted in order to build your online brand presence and establish a tight connection with your target audience.
Things Not To Post on Social Media Platforms
We are going to outline essential things to avoid posting on social media that every business owner must know and follow in order not to lose followers and brand credibility.
Content that is overly promotional
Every business has a different promotional strategy and goals to achieve through social media platforms. The only condition is that your shared content is supposed to bring some value to your target audience.
Some companies should stop posting everything on social media which focuses exclusively on the brand itself. You should shift your focus to your readers and potential clients. When something is valuable to your company, it does not make it automatically valuable to its audience. It is a big mistake to use social media channels exclusively for selling and promoting your products/services. Just stop for a while and consider what matters to your clients and business partners they try to reach online.
For example, in order to find out what not to post on Facebook, you check your competitors and you will see that instead of broadcasting, they encourage people to join conversations, listen to what the target audience is eager to discuss, read posts of the top influencers, etc.
Content associated with religion and politics
There are two subjects, politics and religion, which make people argue a lot and divide into two camps with totally opposite views and thoughts. Such topics awoke very strong feelings, which are not always positive. That is why a company should not post content on social media channels that are overtly religious/political and will never disconnect with its potential clients, who find your content offensive or irrelevant and do not share your point of view.
You can participate in such discussions only if you are a member of a political party, religious organization, or professional journalist. Anyways, you have to take maximum caution and avoid posting controversial content so as not to lose your followers. It is recommended to write neutral content for your social media feeds and avoid any kind of divisive elements.
Viral posts that have nothing to do with the subject
When you try to fulfill your brand feed on social media channels, which looks empty, it can be pretty tempting to share popular viral posts, memes, or videos. You should be very careful with such content because the chances that your followers have already seen it are very high. By posting such content on your corporate profile, you will just make it look non-original. Every post you share has to be relevant, fresh, and new to your target online audience.
It is a smart idea to use such looks as Social Media Tracker. They are efficient in analyzing the main preferences of your audience in order to share content they appreciate.
Negative content
It is a normal practice to be concerned about your competitors or clients, but social media platforms are not the right place if you want to look professional and have a positive reputation.
Sometimes it may happen that a certain group of unhappy clients starts complaining about your company/products/services on their Facebook feed. Do not follow the desire to start arguing online. As a brand representative, your duty is to remain respectful, polite, and diplomatically correct. Such complaints should be discussed offline. 
Content Marketing Platform
100,000+ media publications;
get backlinks to your product;
scale work with content distribution.
Remember that there is no difference between your corporate website and your profile on social media platforms. It works as an online shop window, which has to be well-decorated and clean. By all means, you have to avoid making mistakes, either grammatical or spelling in your online content. Otherwise, your clients will have the sensation that you do not care and are far from being professional.
When you compose content for social media platforms, it is essential to draft it and proofread the final version several times before publishing it online. To be sure that your text is polished, show it to your colleagues and use specialized text-editing programs, such as Grammarly.
Content inconsistent with your brand
When you fulfill your social media profile, you should always keep in mind that it is an official extension of your company. You should always control the tone of your social media feed and the way it appears in front of your target audience.
Plan your content for social media channels beforehand and always discuss the insights with the entire team. The goal is to publish content that is close to your corporate style and market tendencies.
The same content on all media platforms
You want to cross an essential message online. It is a big mistake to share 100% of the same content on all networks. You can still maintain a consistent corporate voice, making each post unique and eye-catching to your followers.
Keep in mind the demographics of each social media channel are different, so you need to take it into consideration. For example, when you share posts on LinkedIn, you should stick to a more formal tone, while Instagram followers are fond of an informal tone and tons of eye-catching visuals. Tailoring your social media content is essential to be sure that the message fits with the brand style.
Here is the list of the main things that you should never post publicly on your social media accounts:
your private information (your current location, home address, personal telephone number, credit card information, etc.);
relationship issues or personal problems;
disconcerting pictures of other people (friends, children, etc.);
your silly private photos or any other embarrassing stuff;
gossips or any inappropriate information about specific people;
radical views on religion, politics, or race;
personal opinions about your job or colleagues;
anything related to personal or client finances;
specifications of your upcoming events;
hints about passwords (mother's maiden name, pet names, etc.)
How SMM Marketing Helps Grow Your Business
Conclusion
When a company posts on social media platforms on a regular basis, it is easy to make mistakes. In the business world, such mistakes can cost a lot. That is why it is highly recommended to avoid posting the content we have just discussed above. Following easy tips, you will never put your brand reputation at risk or lose followers.
Online Publicity Workbook
100+ content ideas for your B2B startup;
ideal for do-it-yourself publicity plans;
schedule your PR campaign in advance.
Read more: